NUGAS 'Ta Leme' Update
On the 17th of September, Ta Leme Invited the Cretan Brotherhood to join the show.
They were accompanied by three passionate executive committee members: John, Vasilis and Rhea.
As a group they collectively contributed to meaningful conversation, one significant topic being traditional Cretan dance. Vasilis notably remarked that when Cretans dance they shut their eyes, listen to the music and let their feet do the dancing.
Such description emphasizes the freedom, spontaneity and creativity that comes with this unique dance style. It is fascinating that a second generation-based club is capable of staying so strongly and proudly connected to its culture. Two Cretan Brotherhood dancing groups gather weekly, engaging in strenuous yet rewarding dance practice, led by their well-respected teacher Eleni.
'What constitutes a successful cultural club' was another enlightening conversation that took place. All three guests emphasised the importance of maintaining relationships not just within the club, but externally. Not only do they attend their own events, they value the participation and support of other events led by groups such as NUGAS and the Pallaconian Brotherhood. Furthermore, the importance of inter-committee relations or maintaining a "brotherhood" was stressed as being fundamental to success. Each member contributes their own creativity and expertise, leading to the creation of epic events. Ta Leme on the 24th of September took place only two days after the Annual Nugas ball.
One could say that our guests were still recovering from the TRELA of a night! Yet, Dimosthenis Manasis, Jordan Moschovitis, Kallie Karamanlidis, Kyriacos Karolides and members of Flinders Uni Hellenic Association still managed to join us bright-eyed and eager for some conversation! Together our guests gathered in diversity, exemplary of what our Greek-Australian youth culture is all about: representatives from five different universities, one of which being situated in Adelaide, and a passionate dance school founder.
Following the hottest event of the year, our guests provided some valuable input regarding the Nugas Ball. Maniasis notably commented how this event differentiated itself from any other ball hosted by Nugas. Great efforts were made for it to be perceived in a more cultural light, rather than a glendi! Several regional cultures were expressed through dance and instrumentals, including Pondiaka and Kritika. Our radio guests also commented unanimously on the outstanding representation of five interstate universities, helping us achieve national Hellenic-youth scope. Overall the night was deemed a very successful one, with the added freshness of a glamourous new venue, the Timberyard.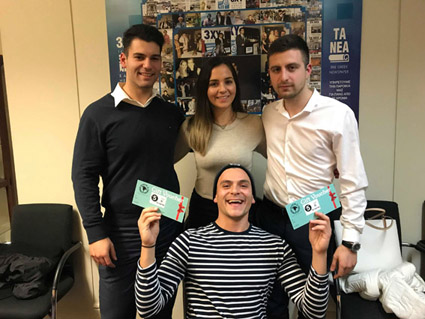 NUGAS Ball 2019- A Night to Remember
On the 22nd of September, the National Union of Greek Australian Students (NUGAS) once again held its annual Ball and infamous After Party at the Timber Yard in Port Melbourne and Ms Collins respectively. Despite complications regarding the forced evacuation of Docklands' Central Pier and consequently NUGAS' original venues of choice Peninsula and Alumbra, the 2019 NUGAS Ball was once again a resounding success. The biggest event of the Greek students' calendar, the 2019 NUGAS ball was host to around 900 Greek and non-Greeks alike who came together under the same roof to celebrate all things Hellenic.
This year's NUGAS Ball, however, wasn't host only to Melbournians- there were a myriad of international guests who came exclusively for the unforgettable event as well! Around 70 students from various Sydney Universities carried on the tradition of their annual Melbourne NUGAS Ball trip and had an amazing time whilst here! From enjoying the dynamic Melbourne nightlife to having lunch in Oakleigh with members of the NUGAS committee, it was once again an unforgettable weekend for all those involved. This is a very important initiative to NUGAS as it serves as a mode of re-establishing traditional interstate connections, with hopefully more such relationships to come.
However, this year's NUGAS ball also included a special guest appearance from a famous international guest! Mixalis Xatzigiannis took time out of his tightly packed touring schedule to pay a visit to the Ball's Greek Australian youth and even perform a couple of his well-known songs!
NUGAS Ball 2019 has once again highlighted that NUGAS as an organisation remains strong and continues to thrive, providing Greek Australian youth with a way to connect with both each other and their heritage. Special thanks need to be extended to this years' NUGAS committee and in particular President Anastasia Dolkas and Vice President Jacqueline Abraam for all the work they have done in preparing the Ball. Additionally, a special thank you to Mixalis Xatzigiannis and the special guests from Sydney for helping to contribute to the success that was NUGAS Ball 2019. Reminiscing on the night that was, made possible with the photos taken by Falle Photography, prepare for NUGAS Ball 2020 which is set to be even bigger and better!
Written by: George Nikolakopoulos