Pokemon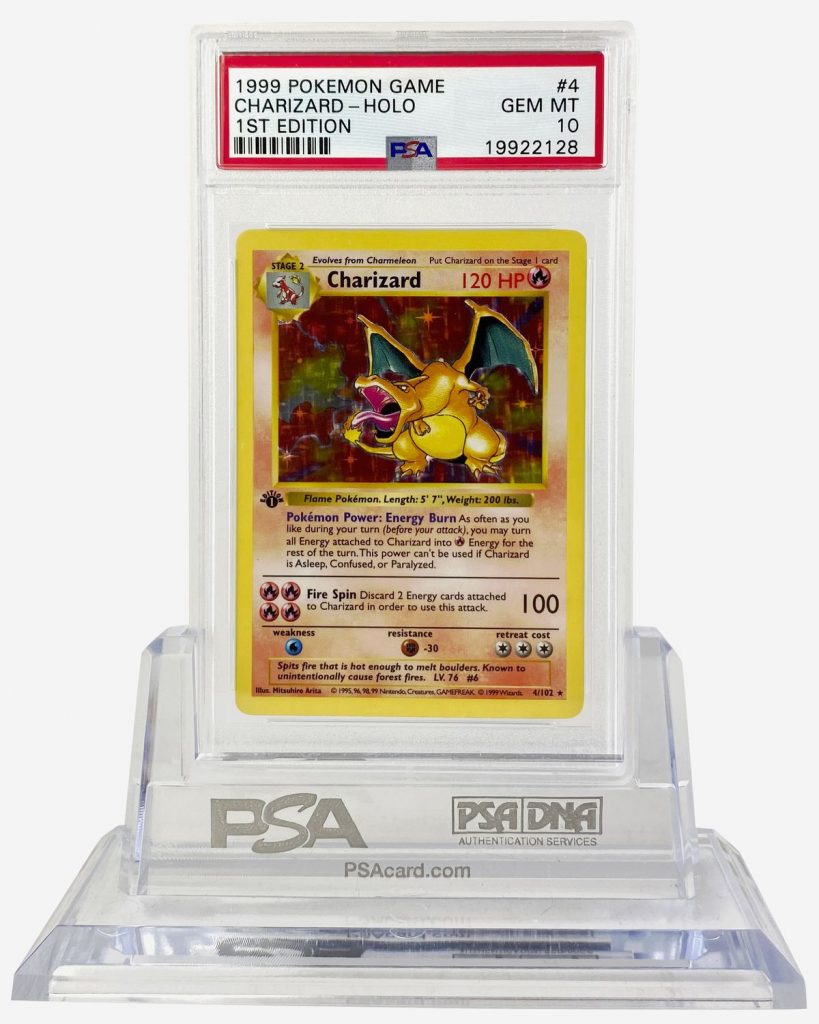 This ultra-rare Charizard First Edition 1999 Pokemon Game card has set a new world record for the franchise, selling for A$305,149.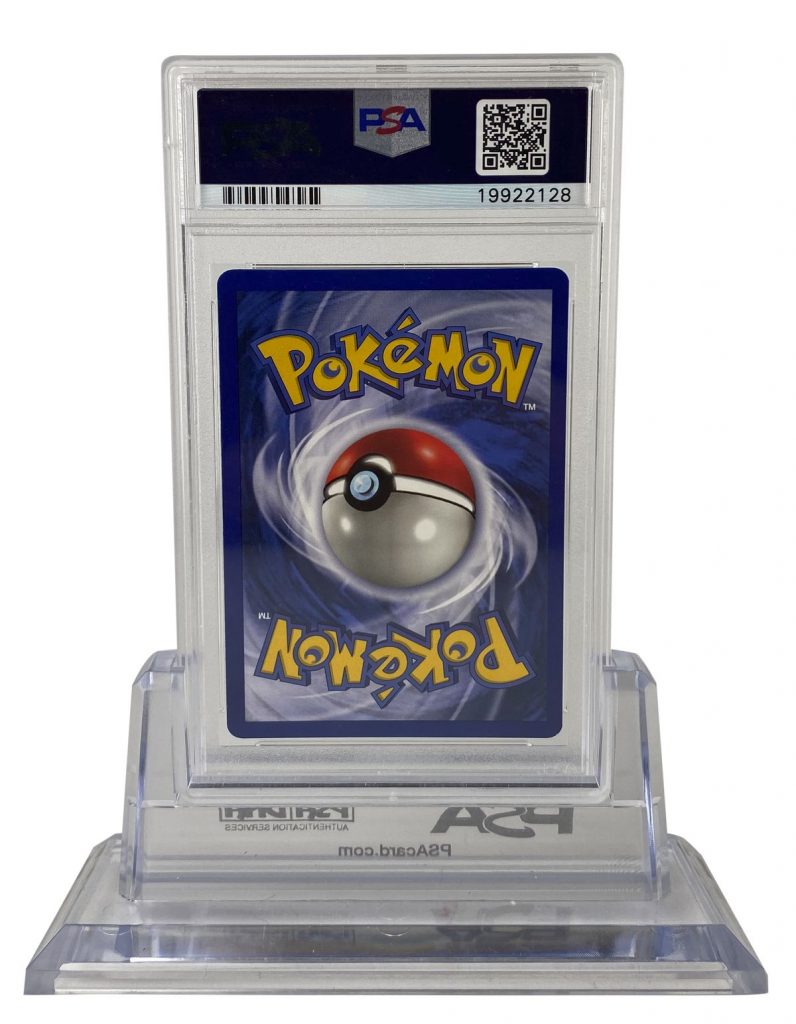 Known as "the most coveted of all cards", the Charizard is now the most expensive Pokemon card ever sold at auction.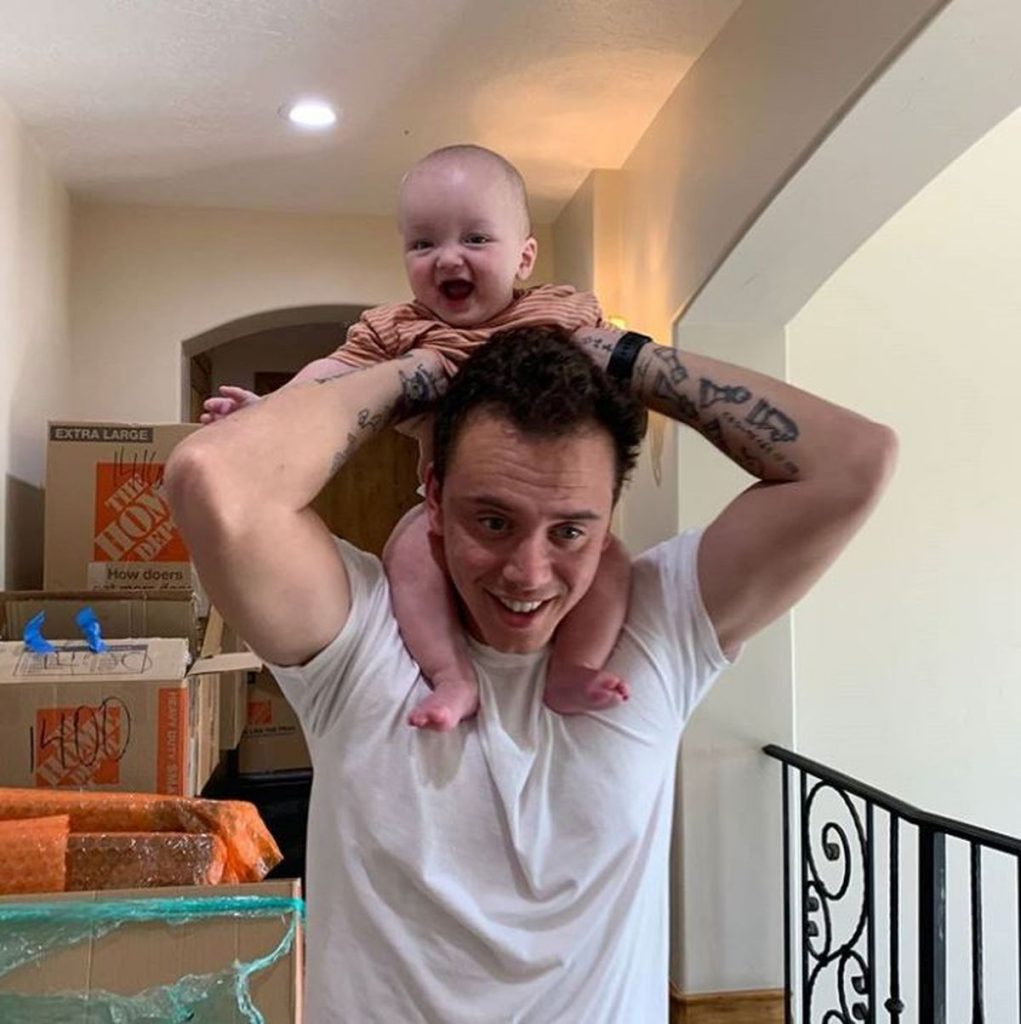 Former rapper Logic, who bought the card, took to Instagram to say that he loved the cards as a child, and used to try and trade food stamps to afford them when he was young.
A classic Ford Falcon sold in an online auction for more than $350,000 – despite not having an engine. The 1971 Ford Falcon GT HO XY Phase 3 was part of an estate and sent under the hammer by Gray's Online on September 30.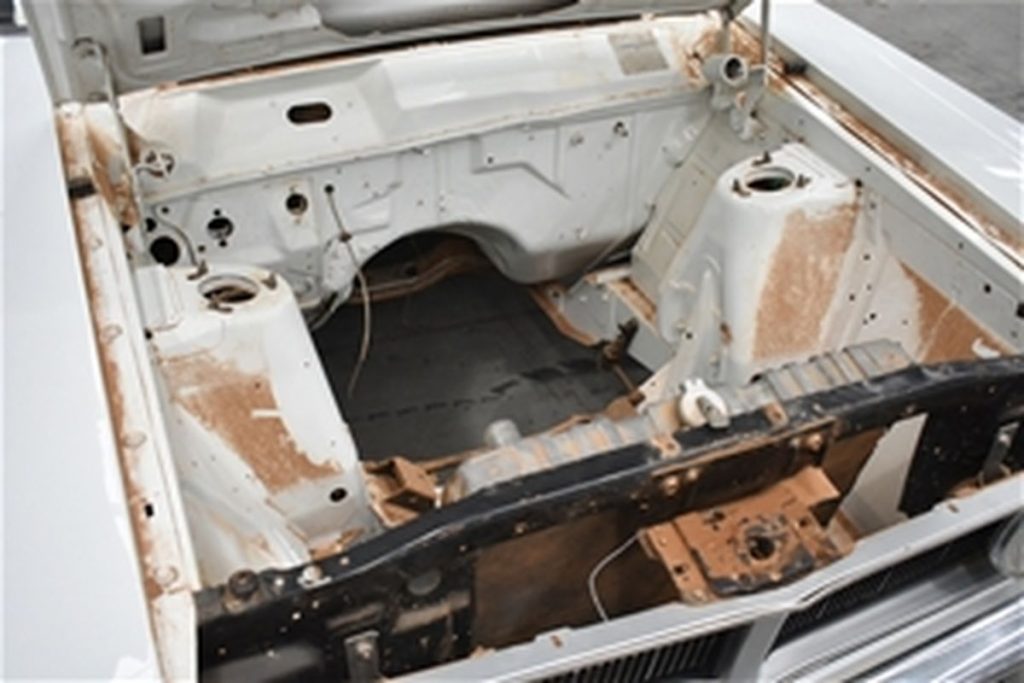 Gray's described the GT HO Phase 3 as "without a doubt the most collectable and valuable Australian muscle car of all time". The vehicle had only had one previous owner.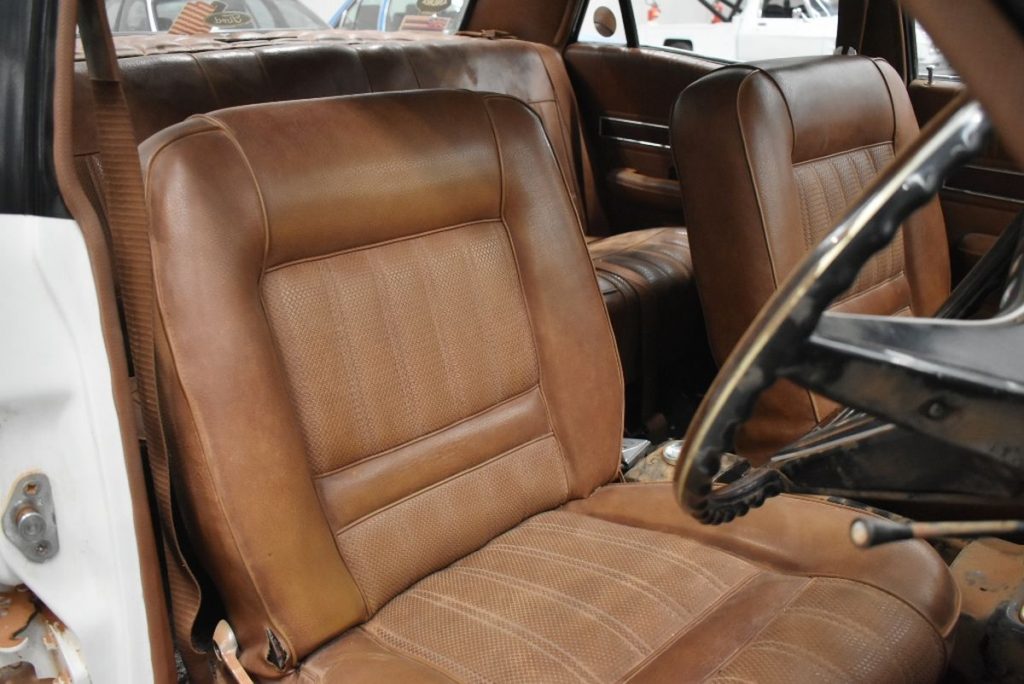 The successful bidder, from Shepparton in Victoria, paid $350,709 for the car, up just $100 from the previous top bid.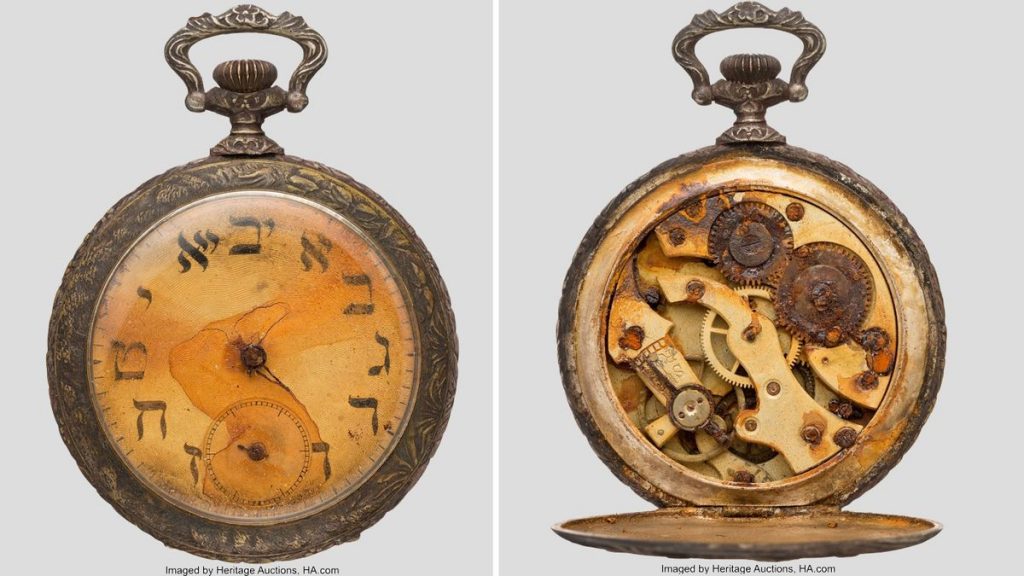 A pocket watch that was recovered from a passenger who died on the Titanic has sold at auction for US$57,500 ($78,484).
Heritage Auctions says the watch, sold on Saturday, had been recovered from a 34-year-old passenger named Sinai Kantor.
Kantor was a Russian immigrant who managed to get his wife, Miriam, to a lifeboat before he died in icy waters after the ship hit an iceberg.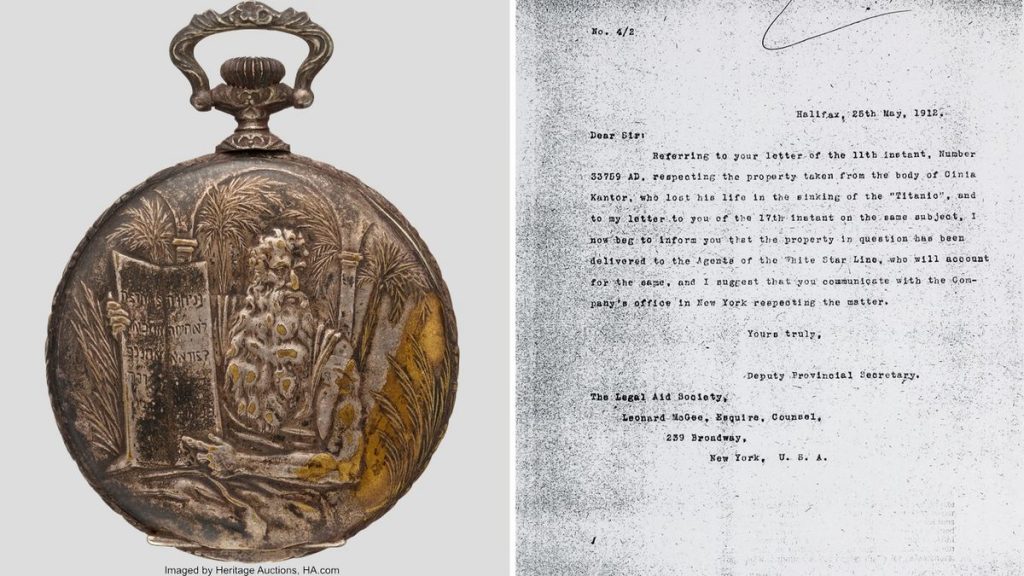 Kantor's body was later pulled from the Atlantic Ocean. He was buried in New York. The pocket watch was sold by a direct descendant of Miriam and Sinai Kantor.
It was bought by a collector of timepieces connected to the famous 1912 sinking.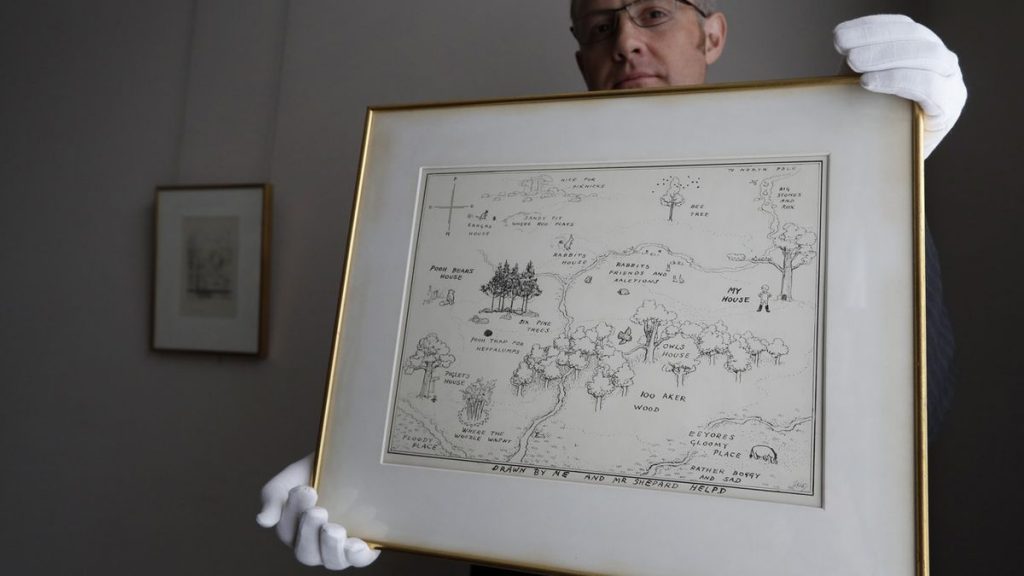 The original hand-drawn map of Winnie-the-Pooh's Hundred Acre Woods has sold at auction for 430,000 pounds ($571,000), a record price for a book illustration.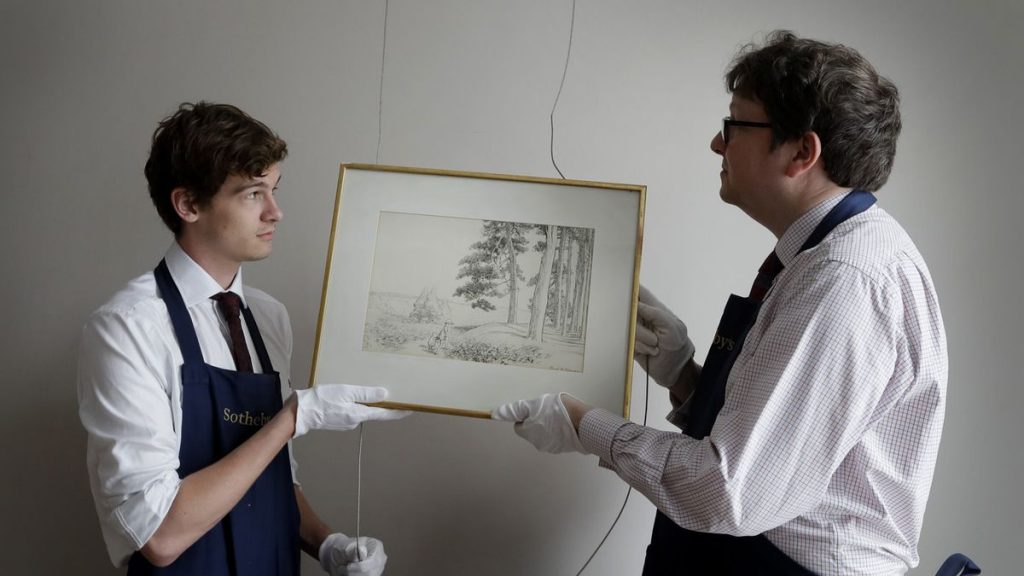 E.H. Shepard's drawing sold at Sotheby's in London on Tuesday for almost three-times its pre-sale estimate.
Shepard's 1926 sketch features beloved characters including Pooh and Christopher Robin, and landmarks including "Bee Tree" and "Eeyore's Gloomy Place".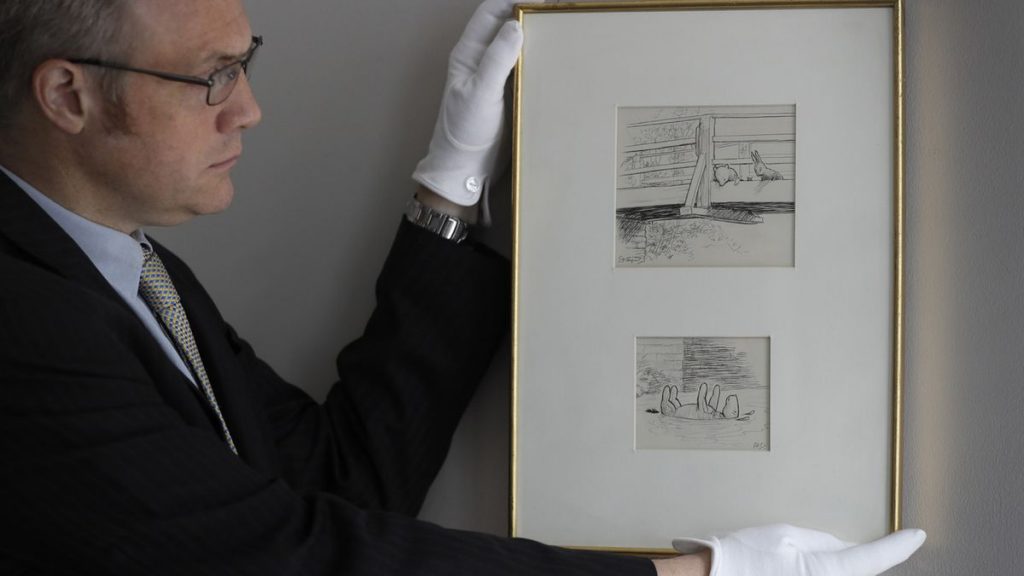 It was last sold in 1970 for 1700 pounds.
Shepard's illustrations helped cement the popularity of A.A. Milne's "bear of very little brain" and his woodland friends. In 2014, an ink drawing of the characters playing the game poohsticks sold for a then-record 314,500 pounds.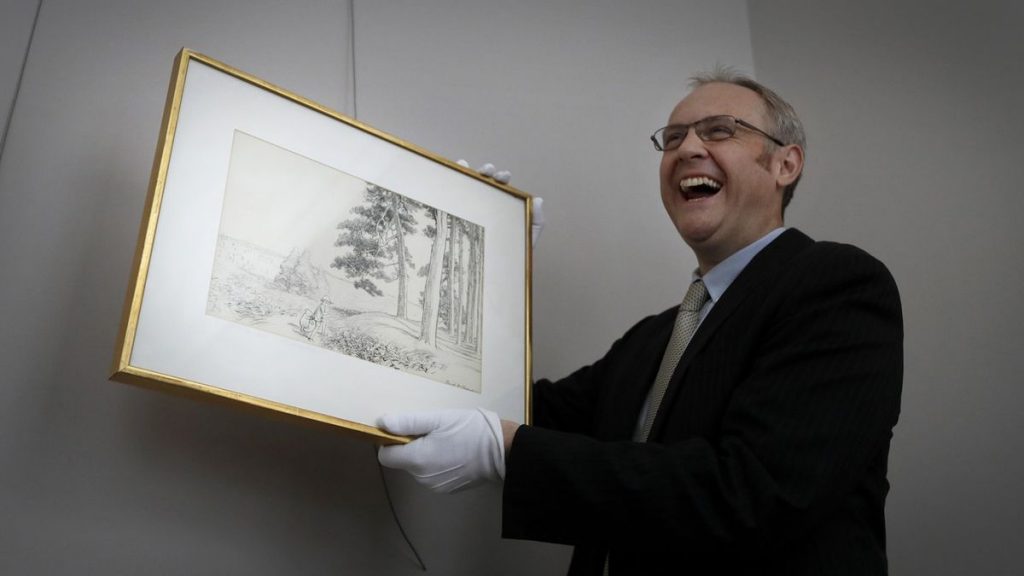 The map and four other Shepard Winnie-the-Pooh illustrations sold for a total of 917,500 pounds at Tuesday's auction.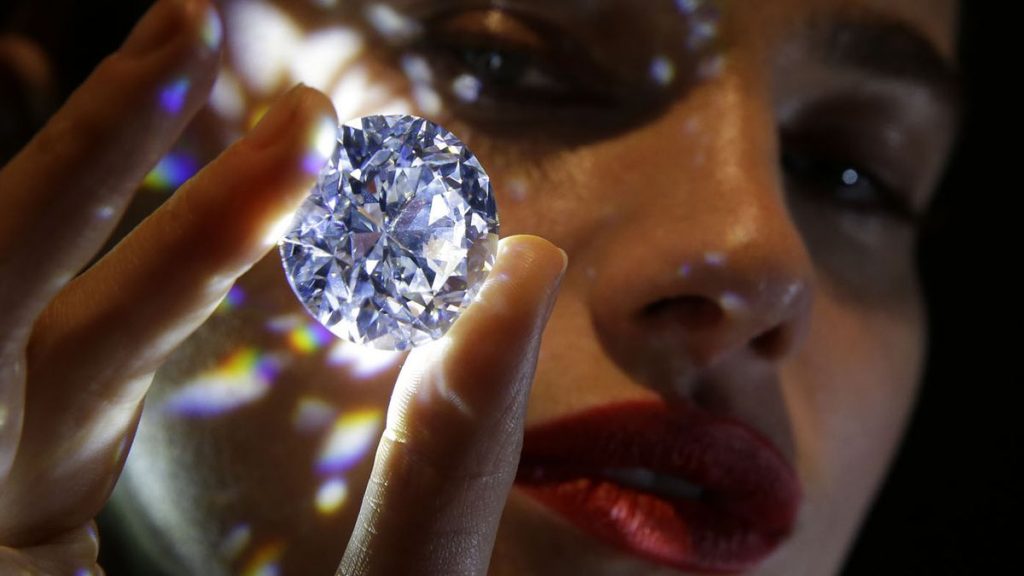 A white diamond billed as the largest and purest of its type to come to market is expected to sell for well over $33 million.
Sotheby's auction house says the 102.34-carat gem mined from Botswana "is the only known round brilliant-cut diamond over 100 carats perfect according to every critical criterion" — carats, color, clarity and cut.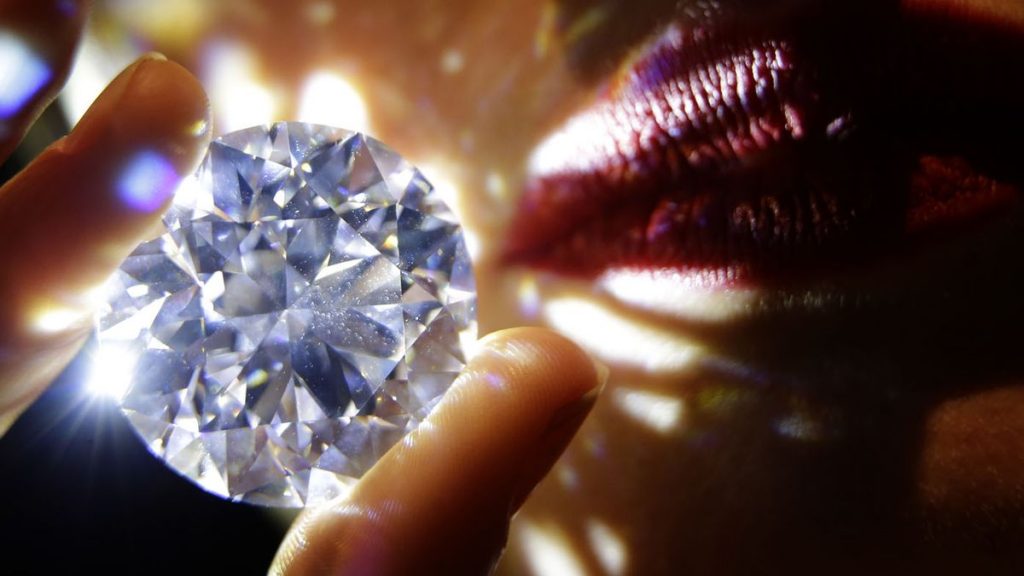 Sotheby's diamond department head Patti Wong called it "over 100 carats of flawless perfection."
The diamond went on display Thursday at Sotheby's London showroom and is being offered for private sale. It's expected to fetch a price "considerably higher" than the $33.7 million auction record for a white diamond.
The auction record for any diamond is held by the "Pink Star," which sold for $71 million at Sotheby's Hong Kong in 2017.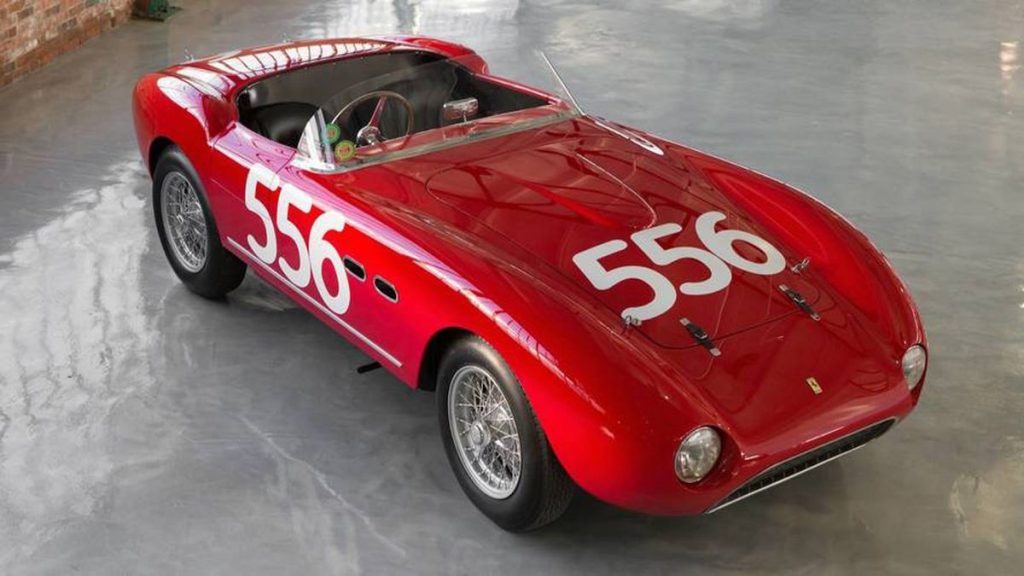 This 1953 166 MM Ferrari Spider is just one of 13 examples ever made, and could fetch almost $6 million when it goes under the hammer at R.M. Sotheby's Paris.
With a pure racing background the 166MM features a completely re-built V12 engine, a five-speed manual gearbox and an auxiliary fan to keep it cooler on the track.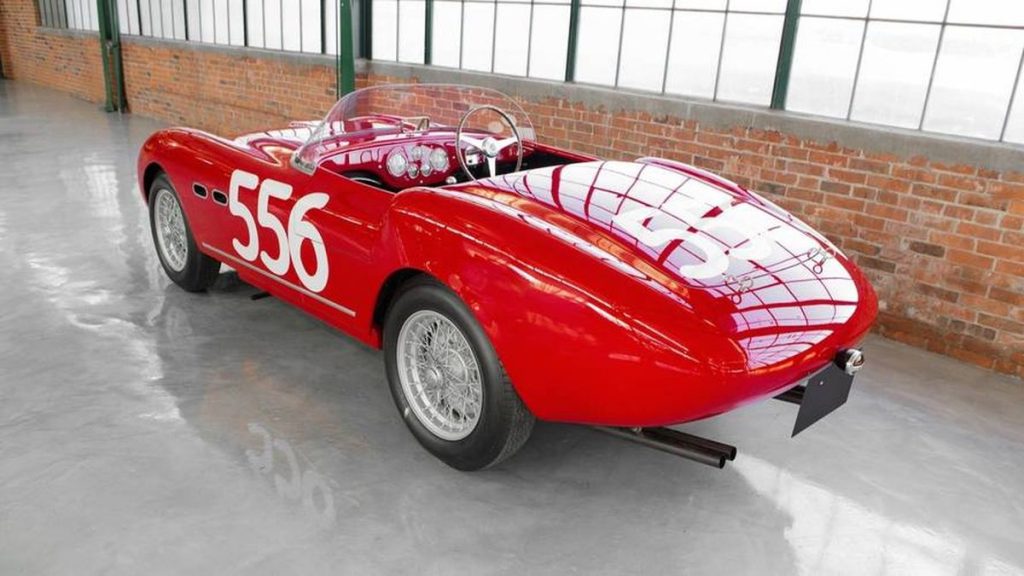 The car was so idolised by racing fans that it gained the starring role in the 1955 film The Racers. Metallurgic tests have been performed on 20 different points of the vehicle's chassis to confirm that it is indeed an original 1953 166MM Ferrari Spider.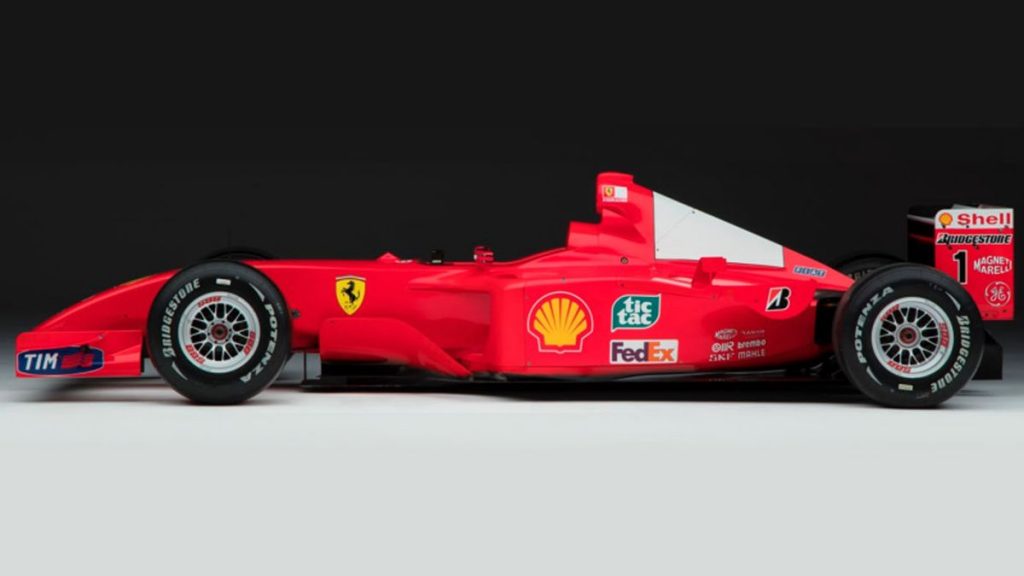 It's the most famous F1 car in history, and now it's about to become the most expensive: Michael Schumacher's F2001 Ferrari is expected to fetch well in excess of $4 million when it goes under the hammer in New York later this month.
This particular car was piloted to win the Grand Prix de Monaco in 2001 and is thought to be the most recognisable car in motorsport history. RM Sotheby's, who is holding the auction, says although the vehicle's next destination will likely be a museum it is still 100 percent functional and could be raced today if the new owner wished to.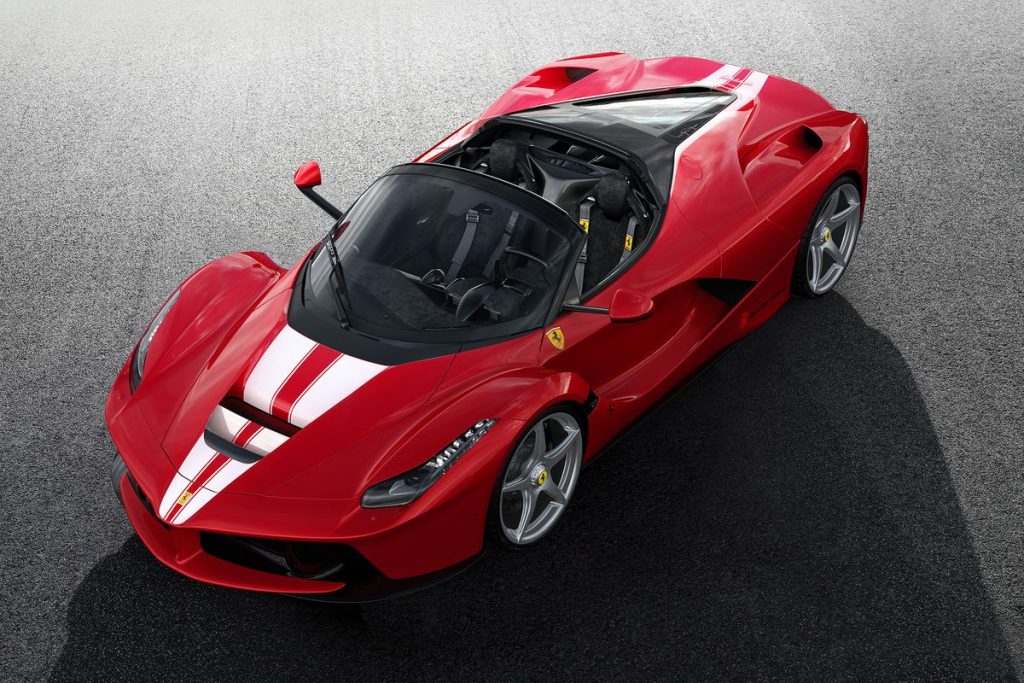 The Ferrari so rare you couldn't even drive it has sold for a staggering $12.4 million at an auction held by RM Sotheby's yesterday.
Named the "LaFerrari Aperta", the car is just one of 210 vehicles built to honour Ferraris 70th Anniversary and fetched more than double what the auctioneers estimated the two-door supercar to be worth.
The price means that the LaFerrari becomes the 21st century's most expensive car, and it hasn't even been built yet.
RM Sotheby's says the auction item will be finished in a one-of-a-kind livery that features a double racing stripe from back to front and the highest quality leather furnishings.
Unlike most other outrageously expensive supercars, this Ferrari isn't destined for the garage of an ultra-wealthy Saudi oil Sheik or international businessman. Instead, all the proceeds from the sale will go towards the "Save The Children" foundation, which rescues minors trapped in developing countries.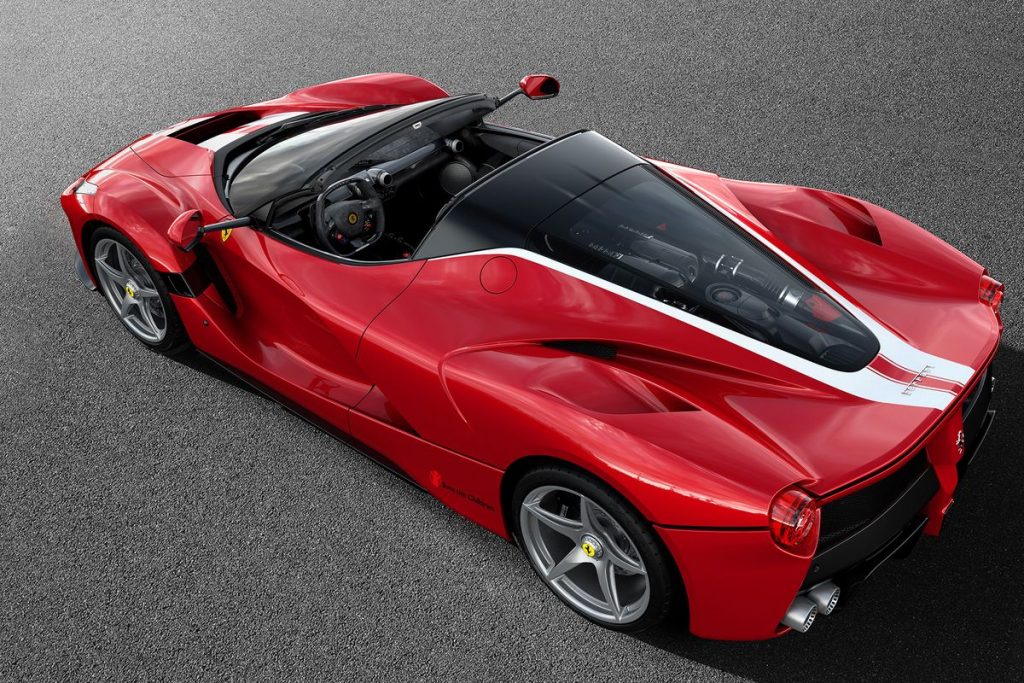 Of course, everyone wants to know what it's like to drive one, and RM Sotheby's says the car will have "ludicrous performance". What we do know from existing models is that it will feature Ferrari's most powerful engine, the 6,262 cc V12, which is currently banned in F1 racing. With this powerhouse under the bonnet, the car can go from 0 to 200 km/h in under 7 seconds, and has a max speed of 350 km/h.
All of that power is controlled by a seven-speed, dual clutch gearbox taken out of an F1 car, and transferred through to the road by the ultra-high end Pirelli P-Zero tyres. Unlike other cars, the LaFerrari can maintain single, constant acceleration up to 300 km/h, which it does in under 15 seconds.
Beloved rapper Tupac Shakur's H1 Hummer is set to hit the auction block today in the US where music buffs say it could fetch one of the highest price tags they've ever seen. The 1996 H1 comes complete with "YAKNPAC" license plates, oversized offroad rims and tyres and even promotional cassettes for Michael Jackson's Thriller that Tupac would listen to while he drove.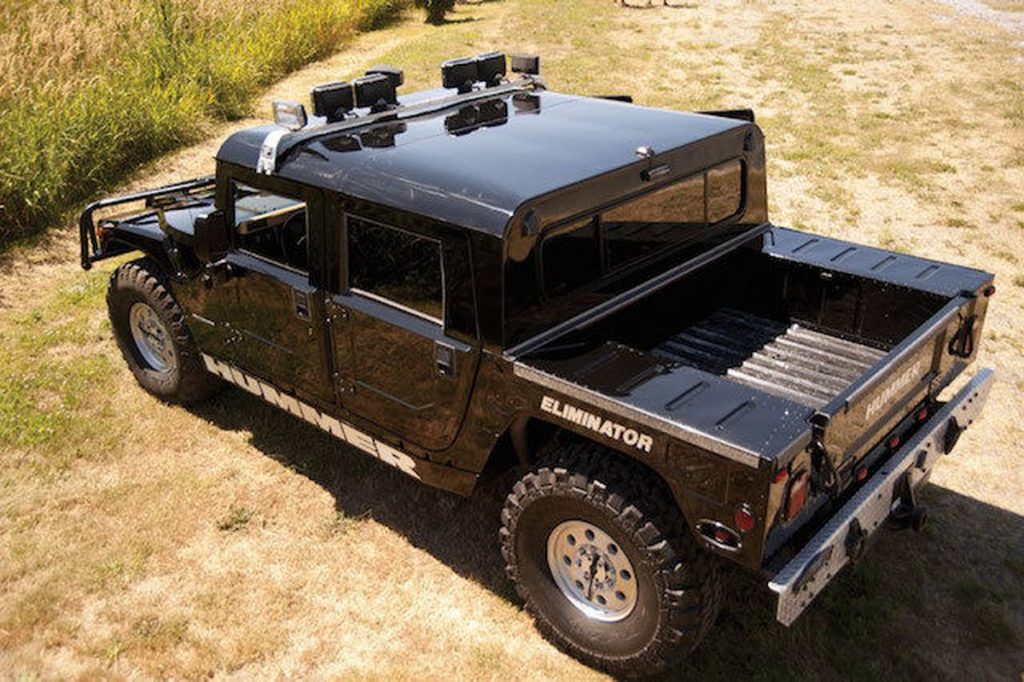 Shakur had this Hummer purposely designed to his specifications: under the bonnet is a stonking big 6.5 litre turbo diesel V8 engine matched to a seven-speed automatic gearbox. That may make you think that the H1 has been put through its paces, but Shakur's Hummer has little more than 16,000 km on the odometer.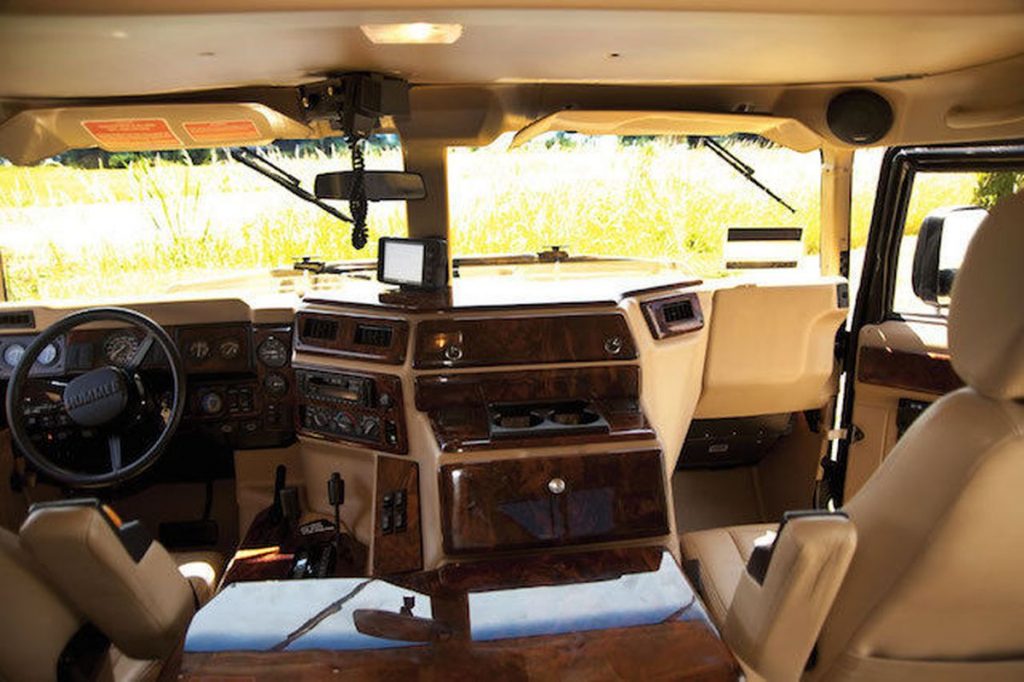 For the new owner, Shakur's H1 represents the epitome of off-road awesomeness: also equipped with the vehicle is a full external PA system with three sirens, 38 inch off-road lights, a 12,000 pound winch to get you out of sticky situations and full privacy glass all round.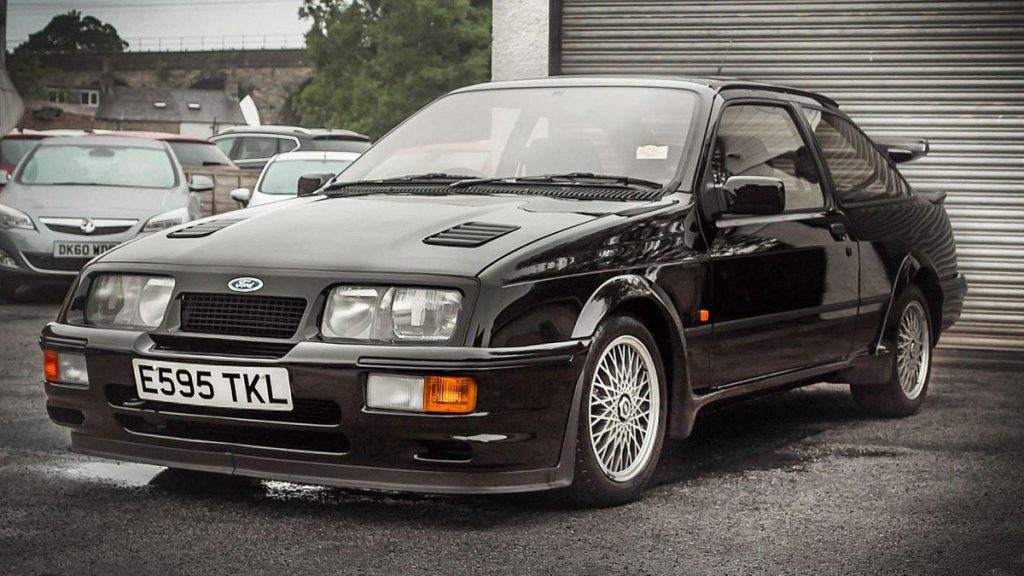 It's the most expensive Ford from 1987 in the world: a pristine Ford Sierra Cosworth RS500 with just over 15,000 kilometres on the odometer has sold for over $200,000.
The RS500 is just one of 500 models made, and comes equipped with a Garrett turbocharger and an engine that pumps out a whopping 224 brake horsepower.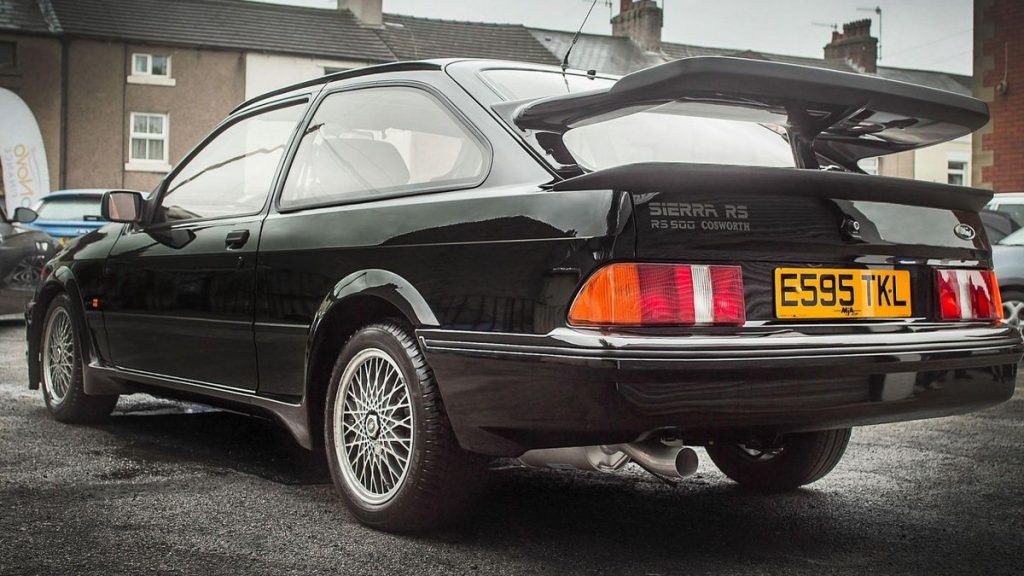 The Ford still has the exact same Dunlop tyres it rolled off the fatcory floor with in 1987, and comes complete with a full service history and logbooks. It was first bought by an anonymous millionaire in 1991 who simply liked the look of it and kept it in one of his estate garages, untouched for 29 years.
The RS500 looks like something your average boy racer would build in his garage – and because of that, it became extremely popular amongst thieves in the early 90s. Many models were found vandalised or burnt out, further increasing the value of this pristine model 30 years on.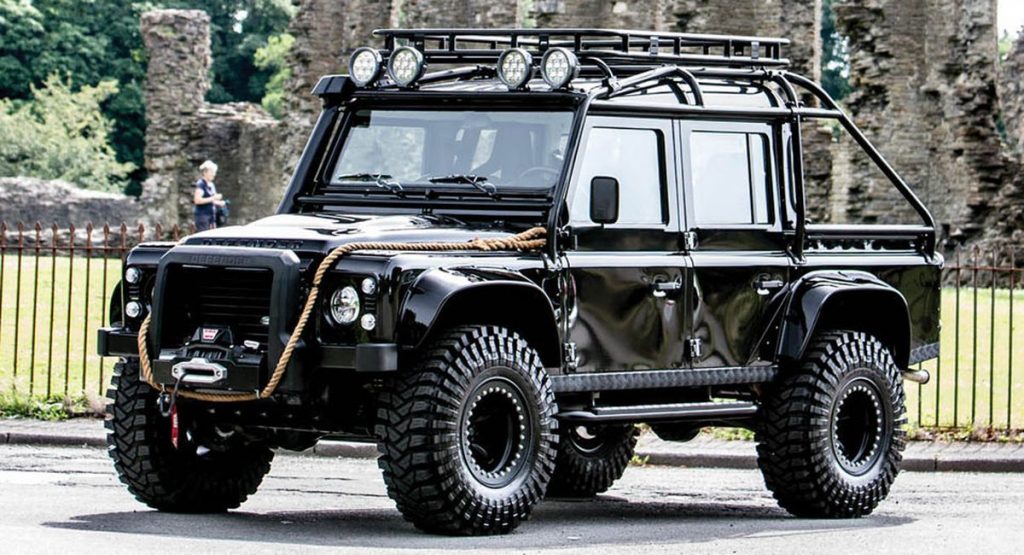 James Bond fans, now is the time to hold your breath: A 2014 Land Rover Defender SVX used in the filming of Spectre is going under the hammer via Auction house R.M Sotheby's.
This vehicle was just one of 10 originals built for the film, and plays a pivotal role in the scene where Daniel Craig escapes from villains over a snow-covered Austrian mountain. Since being created, the Defender has just 234 kilometres on the odometer.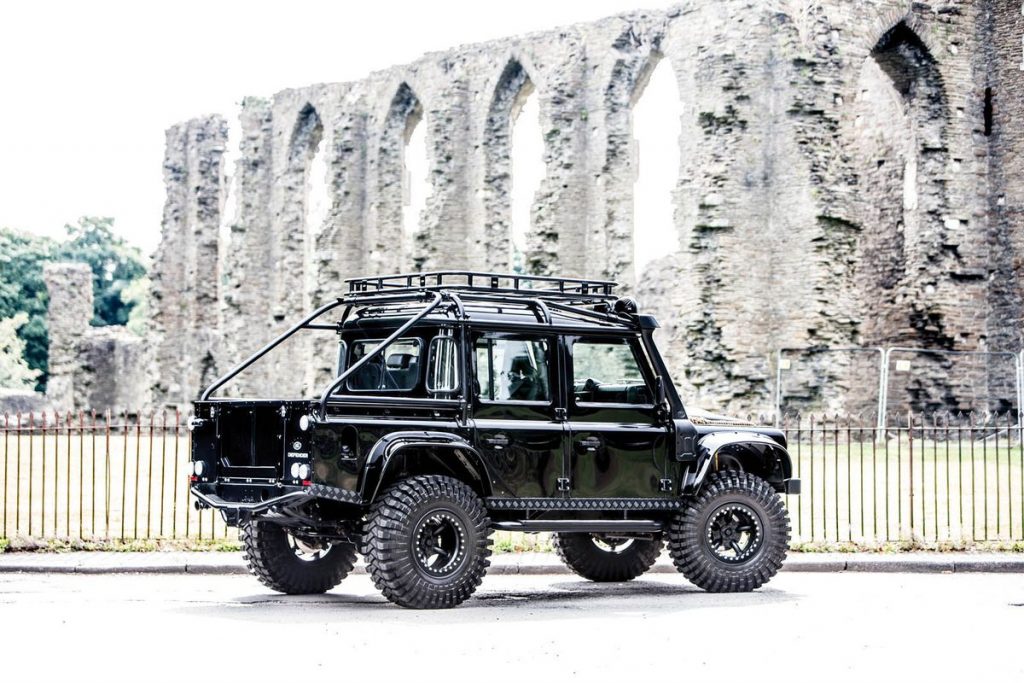 For 4WDing fans, the Defender comes with just about every accessory you can bolt onto the car. From full custom barwork and steps – including sports bars that extend to the end of the tub – this Defender has been tailor-made to handle the rough stuff.
Inside the cockpit you'll find Recaro seats with racing-spec harnesses, a full internal roll cage and even the odd addition of a hydraulic handbrake which has been disconnected to meet with English road rules.
Of course, a vehicle of this imposing nature comes with a manual transmission – which is pretty much the only way you'll be able to control the 500 Nm of torque that the deefer can punch out the wheels. The engine has also been modified to boost the stock power rating up from 120 bhp to 185 bhp.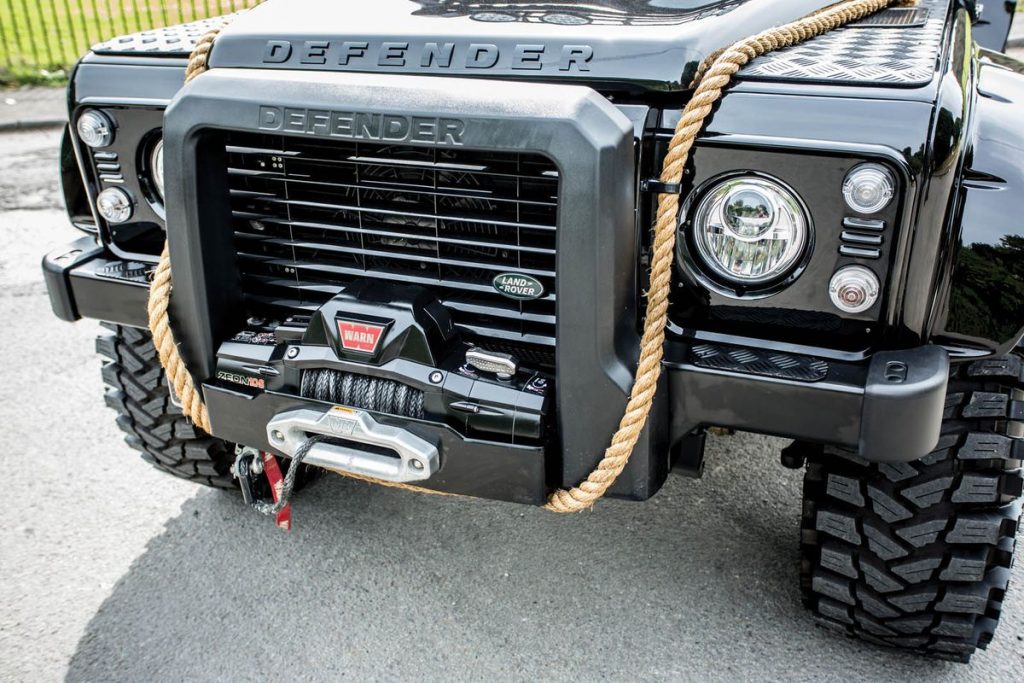 If you do end up taking the Defender off-road, you've got all the toys onboard to get yourself out of the stickiest of situations. With a full Warn winch fitted to the front bumper, along with an upgraded radiator cooler to keep things from overheating when crawling through the scrub.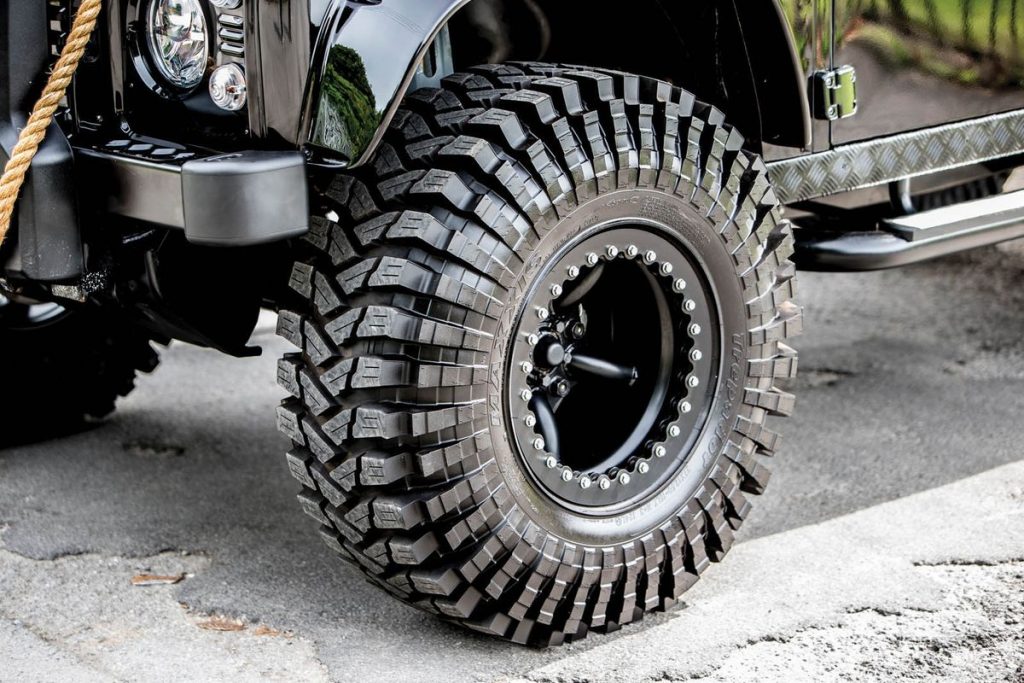 Forget about tricked up GQ Patrols or Landcruisers – if you really want to stand head and shoulders above the crowd at the lights then this Defender is for you. Bolted onto the rims are enormous 37-inch tyres, which just about puts this Land Rover into monster truck territory.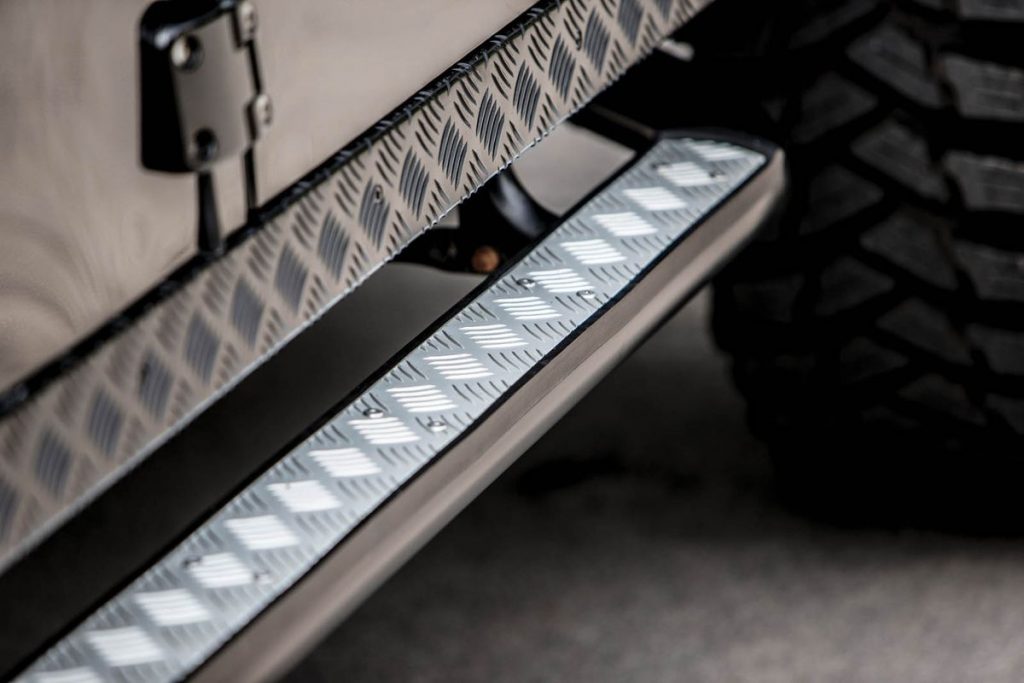 You'll be completely safe from shopping centre trolley accidents too, with the Defenders side steps and custom barwork protecting every inch of the car from attracting damage to the sills.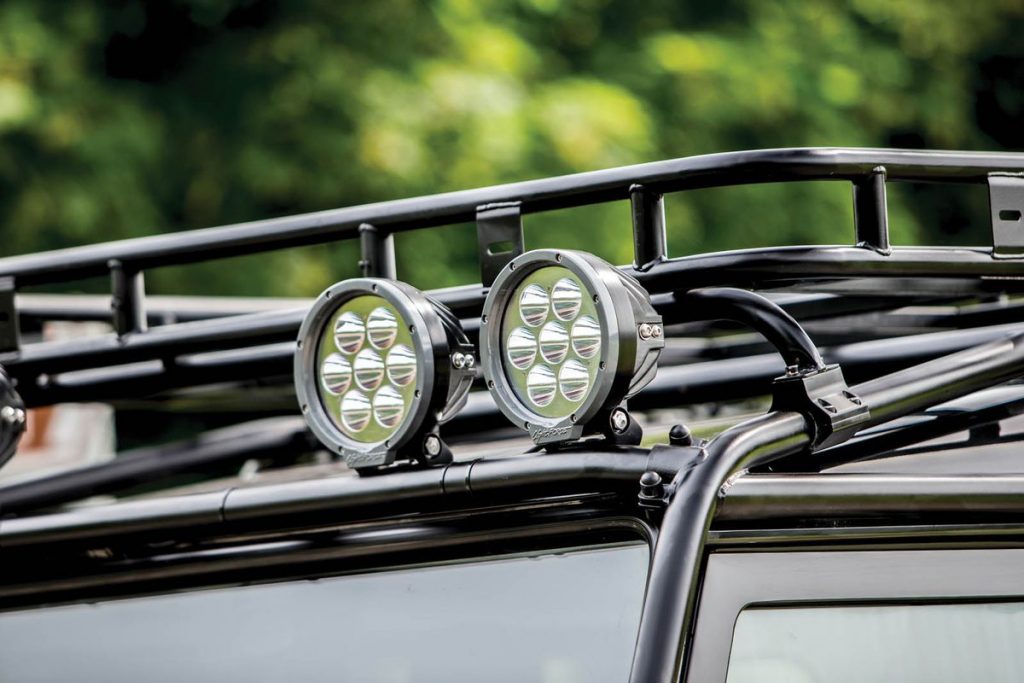 James Bond villains don't sleep, and neither do hardcore offroaders – that's why the Defender comes with multiple driving lights to beam down the trail while you're crawling through a treacherous bit of scrub.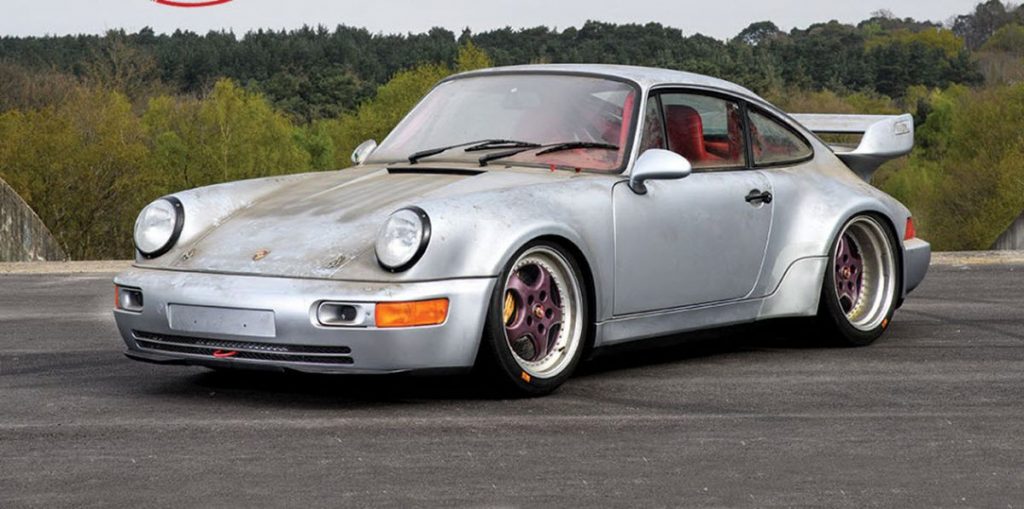 Imagine finding this in your shed – a pristine Porsche 911 Carrera RSR 3.8 from 1993 that's only got 9 kilometres on the odometer has sold for an eye-watering $3.03 million at Sotheby's.
Porsche only ever made 51 vehicles of this particular model, so to find one which is essentially a time capsule covered in dust had the knees of car enthusiasts quivering with delight.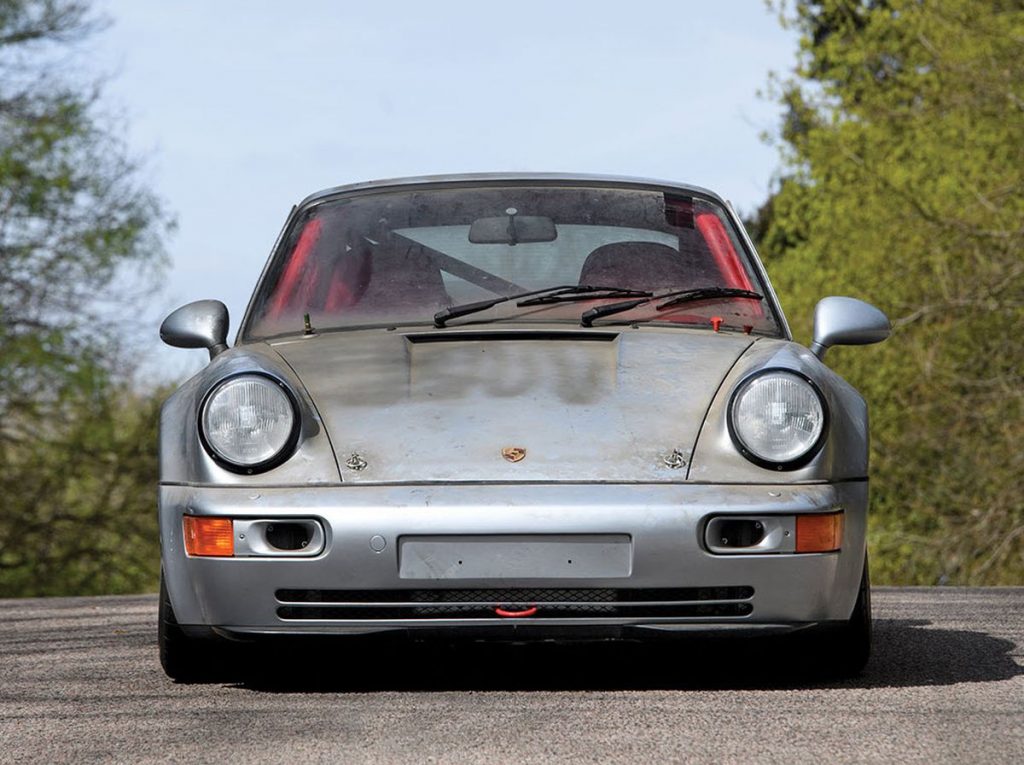 Under the bonnet is a monster 3.8 litre flat-six engine that pumps out a roaring 350 horsepower. The owners bought the car brand new and had it delivered with those kilometres on the odometre from testing – they simply stashed it away in their garage and never touched it again.
The only downside – if you can call it that – is that the car is a little dusty having sat in an empty shed for more than two decades.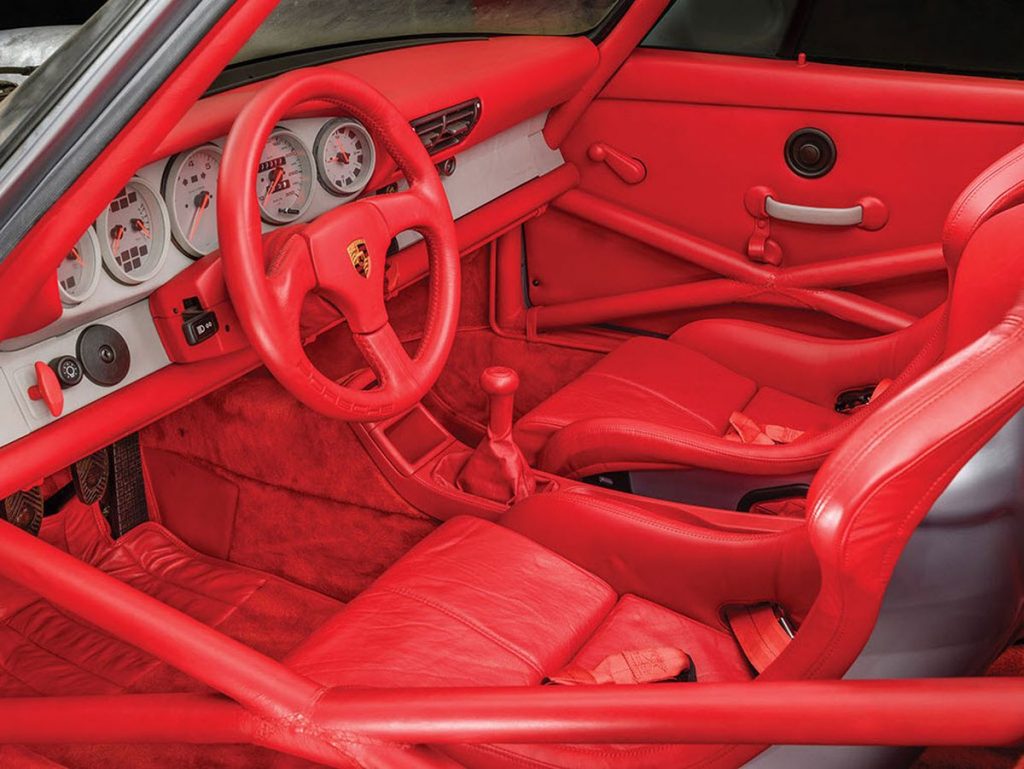 Open the door and you'll be greeted with a sea of red leather, a full in-built roll cage and red velvet trimmings. It's certainly loud – but the fact that it had pretty much never been sat in had buyers clamouring to win what is the nerd's version of an unwrapped figurine.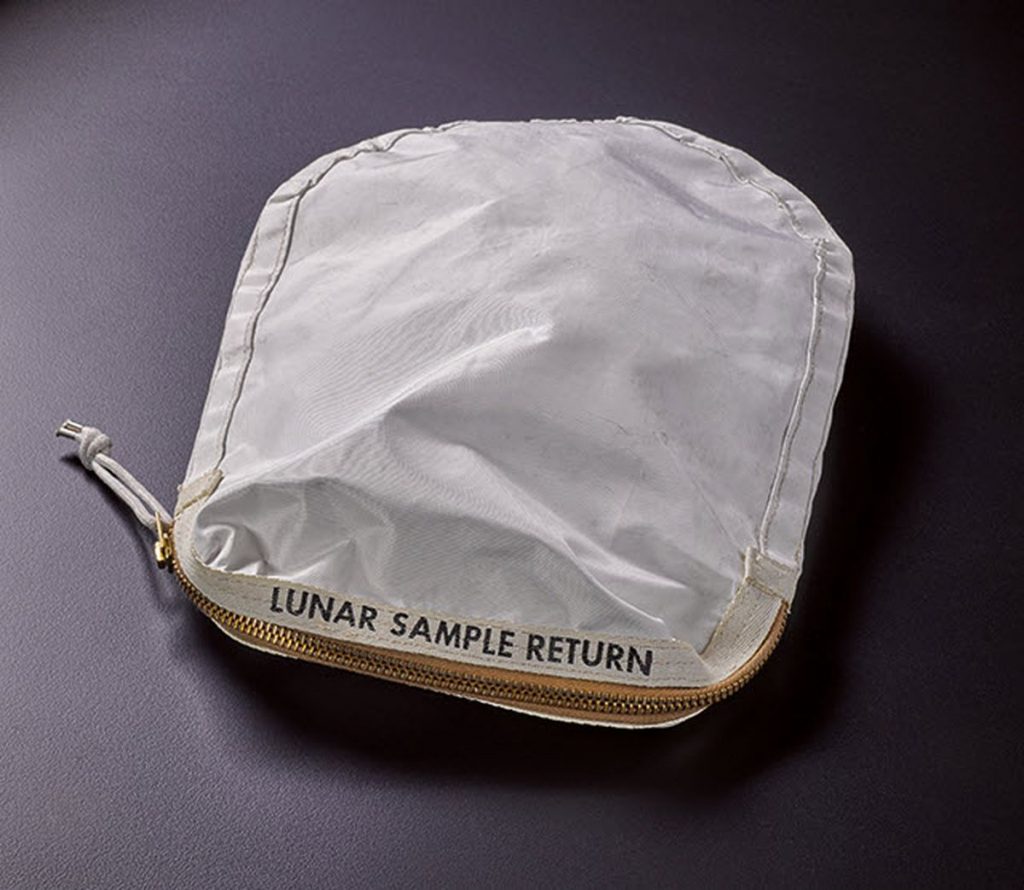 Sotheby's has a bag of literal moon dust – used by Neil Armstrong on his intrepid Apollo 11 trip to the moon – up for a whopping $5 million.
The bag was offered up for auction as a NASA oversight in 2015, where the owner picked up the bag for a paltry $959. Realising their error, the space agency tried in vain to secure the bag back but courts ordered that the woman had purchased the bag fairly.
According to Sotheby's, the bag still contains dust from lunar samples brought back to Earth.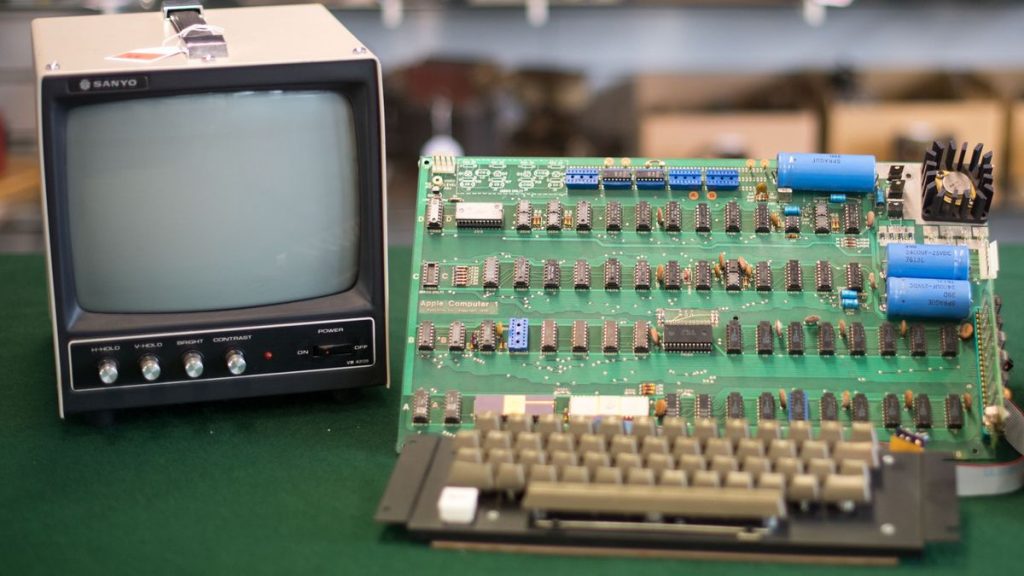 It was hand-built by Steve Jobs in 1976, and now this Apple-1 computer is worth a whopping $165,000 after being sold at auction in Germany. The ultra-rare computer is just one of 200 units that Steve Jobs and Steve Wozniak built as they launched the now-successful Apple company. It's considered to be one of the first examples of a computer that people could own and run in their own home.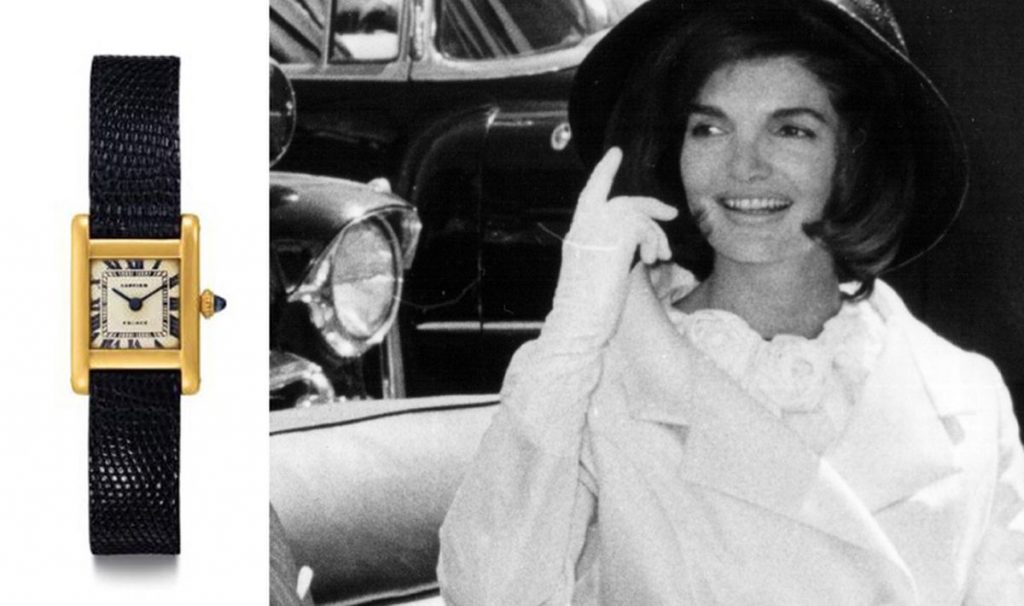 The Cartier watch that Jackie Kennedy wore during her time as First Lady is set to go under the hammer in New York for a whopping $120,000. Under the supervision of auction house Christie's, the 1963 plain-faced watch features an inscription on the rear that reads: "To Jackie, the 23rd of Feb, '63". It's expected that the watch will fetch well above the reserve price – a testament to her enduring popularity.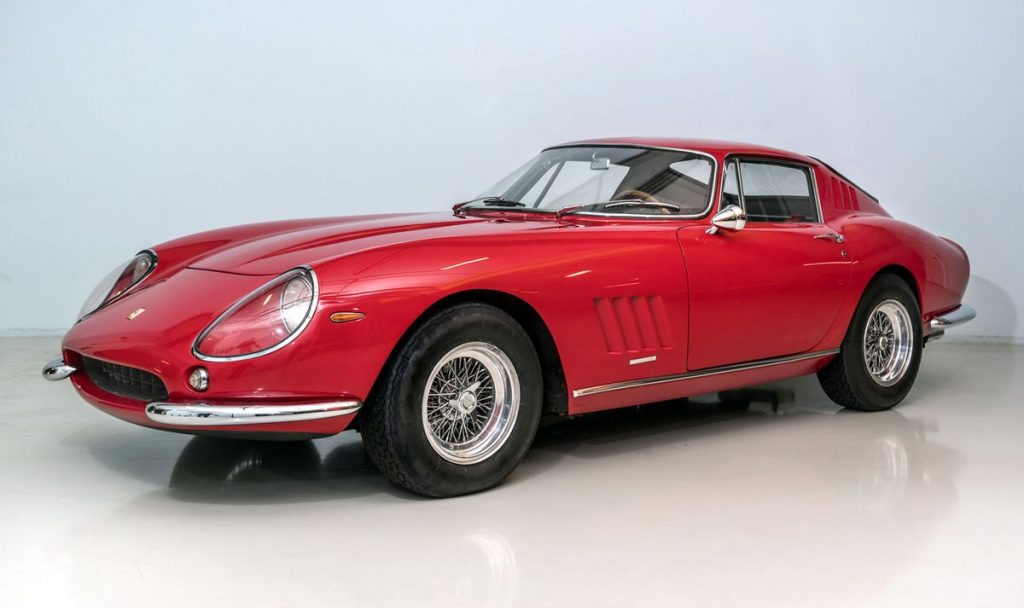 Known as "Chassis no 1", this 1966 Ferrari 275 GTB/4 is the first prototype of the GTB4 range, and car enthusiasts are expecting it to collect almost $4.5 million when it goes under the hammer in the UK on May 18. Auction house Coys – who is selling the car – says that this model is the "most beautiful" vehicle to ever come out of Maranello.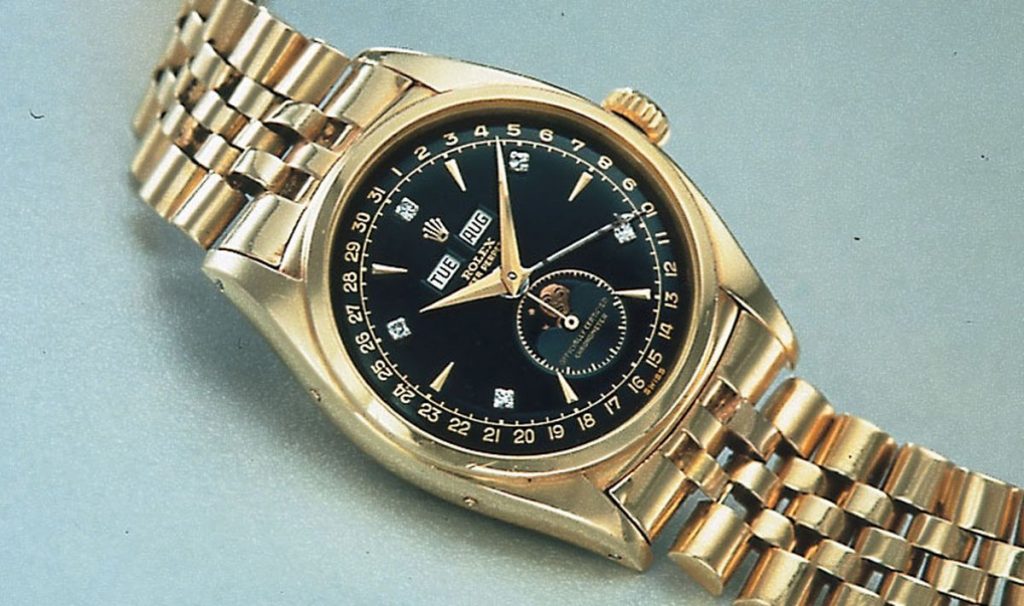 Originally worn by Vietnam's last ever emperor Bao Dai in the 1950's, this is quite possibly the world's most expensive Rolex. It was just one of three ever made, and features the days of the month on the clockface, a moon bezel, the time, the day of the week and the month. When it was made in Geneva in 1952 it was thought to be one of the most complex mechanical wristwatches ever created. Conservative pundits say the rock-bottom price that the watch will go for is $1.5 million.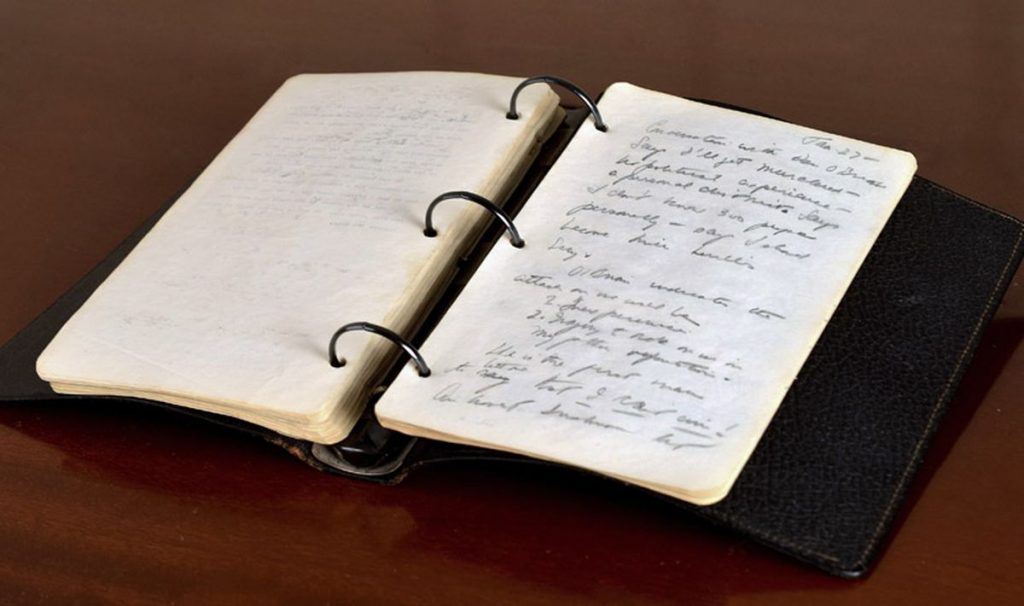 Ever wanted to know the inner-most thoughts and feelings of a US President? Well now you can – but only if you've got a cool $950k lying around. John F Kennedy's diary went under the hammer in Boston, selling for a whopping $959,818. The diary details JFK's opinions on Hitler and the United Nations when he spent time as a journalist after WWII.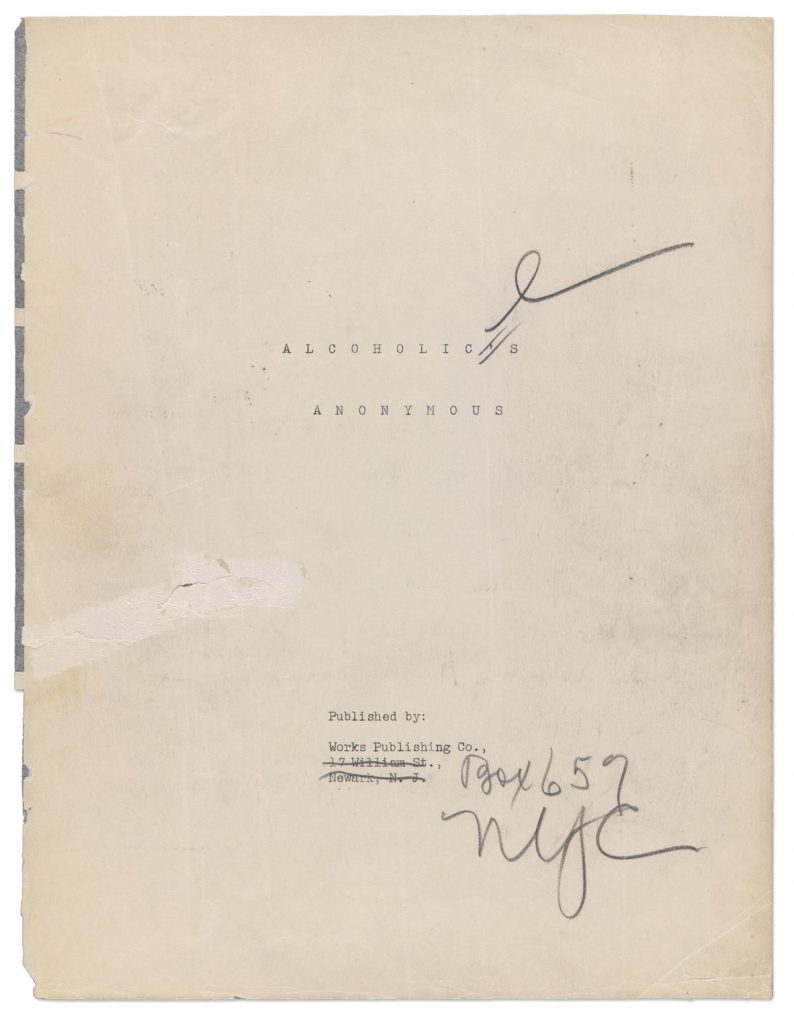 The original "Alcoholics Anonymous" manuscript written in 1938 is expected to fetch a whopping $2.7 million when it goes to auction in June.
The 12-step-program – which has since been adopted by thousands of people worldwide – was originally written by William Griffith Wilson and contains over 161 pages of individually handwritten notes.
Along with stories of people who became sober, the manuscript also includes handy tips and strategies to avoid the bottle at social functions and in times of emotional distress.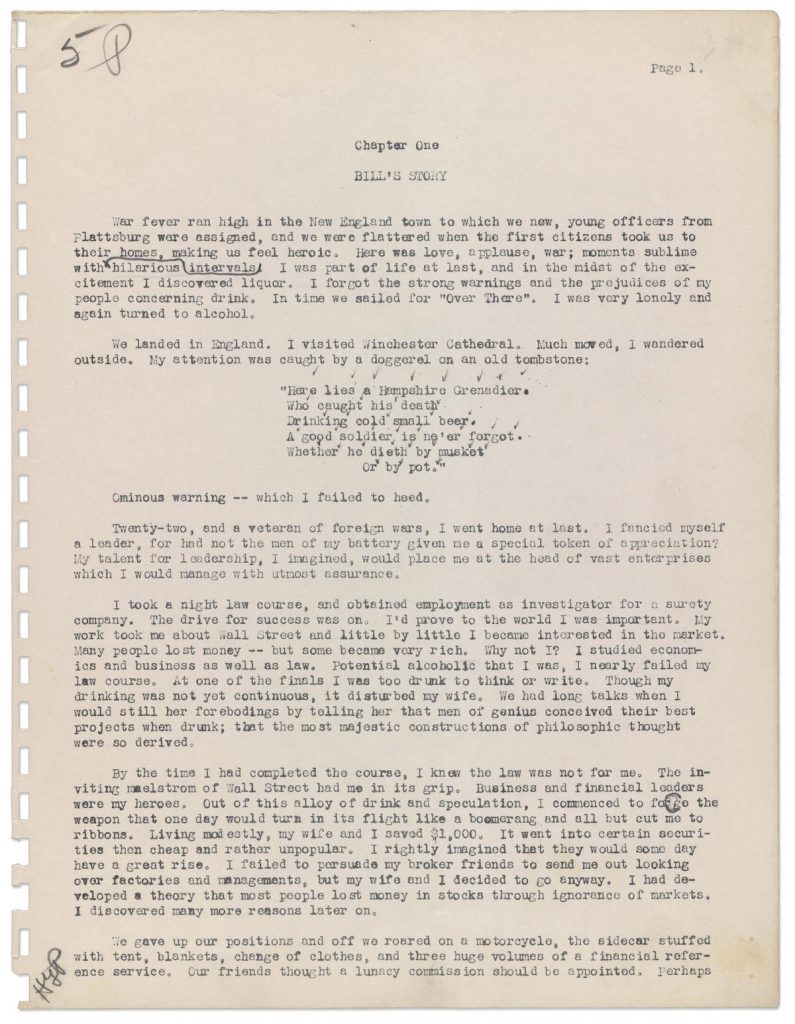 Known to AA members as "The Big Book", the manuscript will soon becomes one of the most expensive literary texts ever sold in history.
The book became so influential that the Library of Congress named it as one of 88 novels that "shaped the country".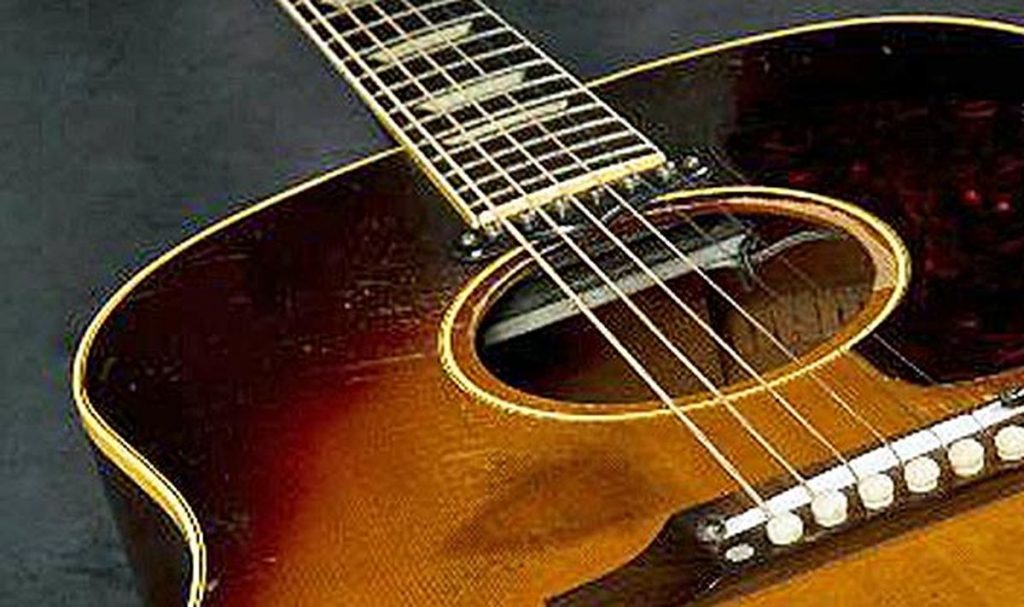 A guitar beloved by John Lennon for writing Beatles hits such as "She loves you" and "All my loving" sold for a record $3.4 million (US$2.41 million) on Saturday, a US auction house said.
The 1962 J-160E Gibson Acoustic guitar was bought by the famous Beatle in Liverpool in September 1962 for 161 pounds, Julien's Auctions said.
Julien's Auctions said the guitar went missing during the Beatles' December 1963 Finsbury Park Christmas Show in London and was lost for over 50 years.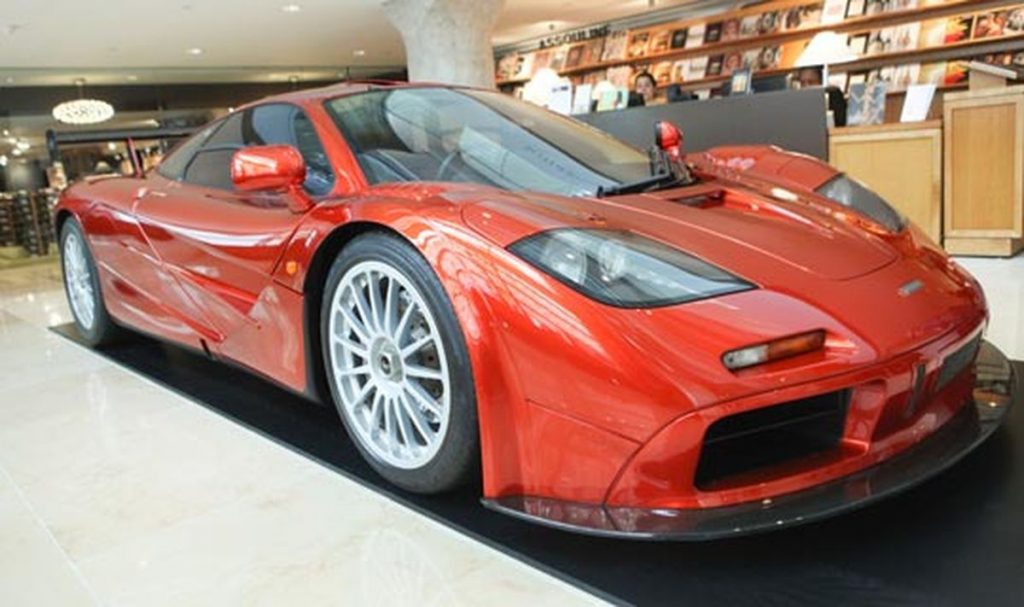 A person's entire car collection sold in August for $92.93 million.
Some of the cars sold off included a 1964 Ferrari 250 LM, a 1998 McLaren FI (pictured) and a Mercedes-Benz 300 SL.
The sale took place in Monterey, California, with the collection, called Pinnacle Portfolio, put up for sale by an anonymous collector.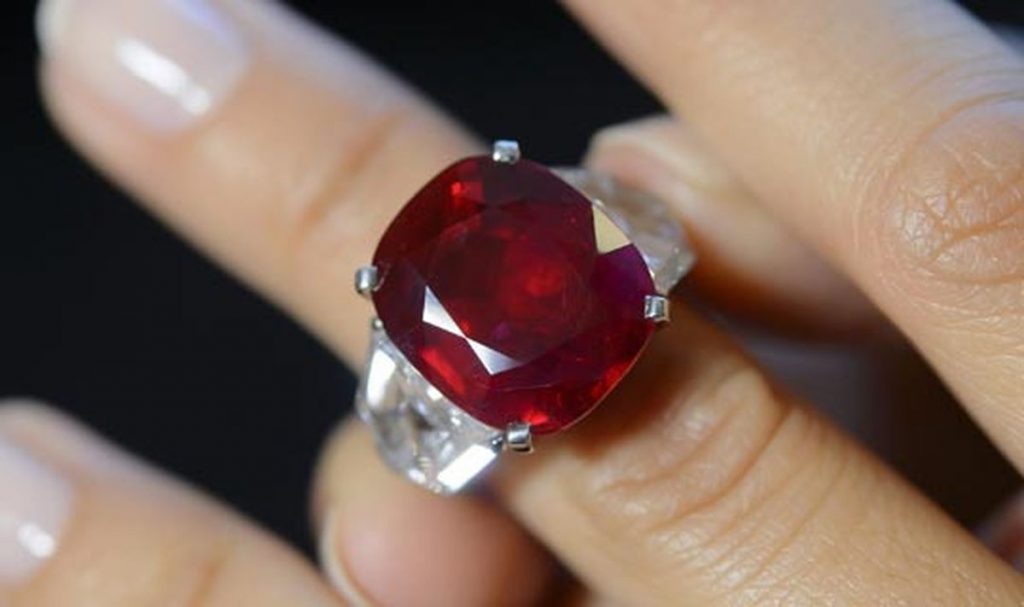 A Burmese ruby weight 25.59 carats sold in Geneva in May.
The Sunrise Ruby had the rare grading of pigeon's blood colour.
"The market for coloured diamonds and precious gemstones has never been stronger, and pink diamonds rank among the rarest of all," seller Sotheby's said.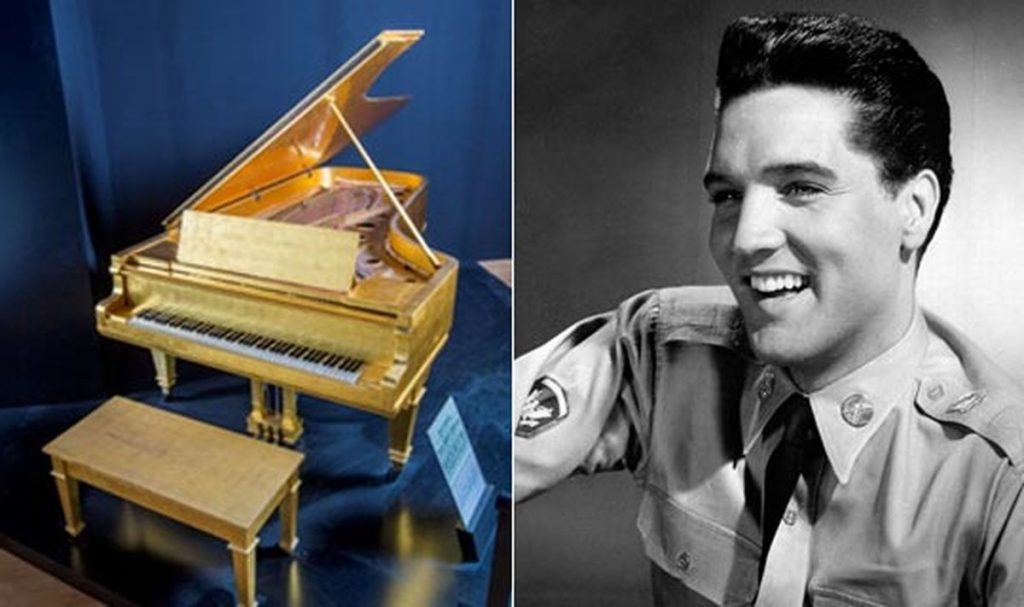 Elvis' gold leaf piano – $850,000
Another item that went under the hammer at the Los Angeles auction house included Elvis Presley's 24-carat Gold Leaf Piano that was snapped up for more than $850,000.
Elvis bought the piano for his mother in 1955 and it was later kept in the music room at the singer's famous Graceland home.
For their first wedding anniversary, Priscilla, Elvis's former wife, had the piano adorned with 24-carat gold finish, according to Julien's.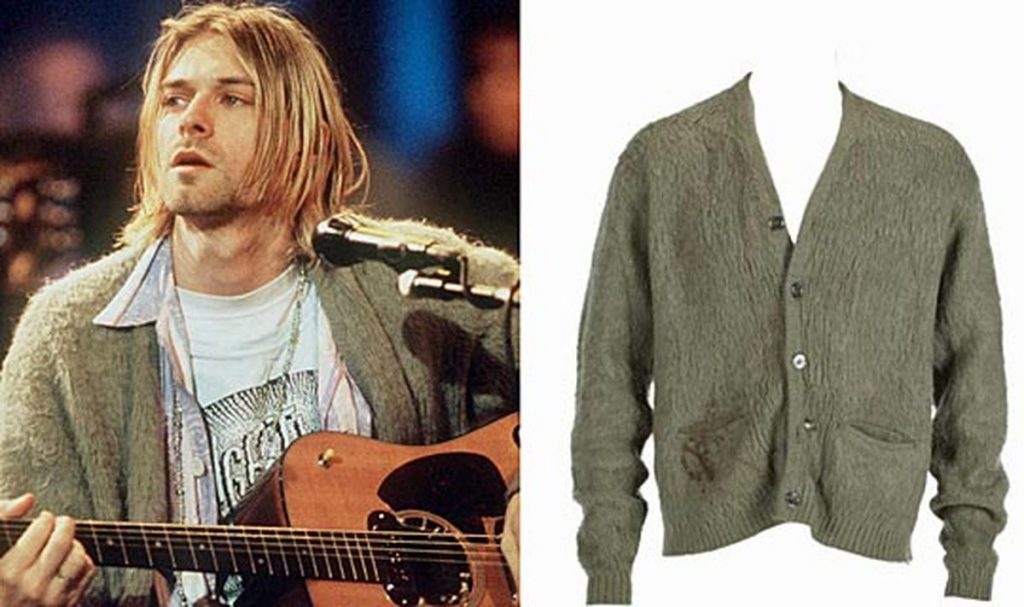 Kurt Cobain's cardigan – $195,000
Other pieces that found buyers included a cardigan worn by late Nirvana lead singer Kurt Cobain, which went for $195,000.
Titanic photo – $40,000
An original photograph of the iceberg that sunk the Titanic has sold for more than $40,000.
The grainy picture was expected to sell for just over $10,000 when it went under the hammer on Saturday, ITV reports.
It ended up selling for $44,541.
The photograph was taken by the chief steward of the Prinz Adalbert, one of the ships that came upon the iceberg the day after the Titanic sunk.
More than 1500 people died when it went down on 14 April 1912 in the Atlantic Ocean, five days after it left Southampton bound for New York City.
The largest ship ever built at that time, and thought "unsinkable", it took only two hours for it to sink.
The shipwreck was found in 1985, nearly 4km below the surface.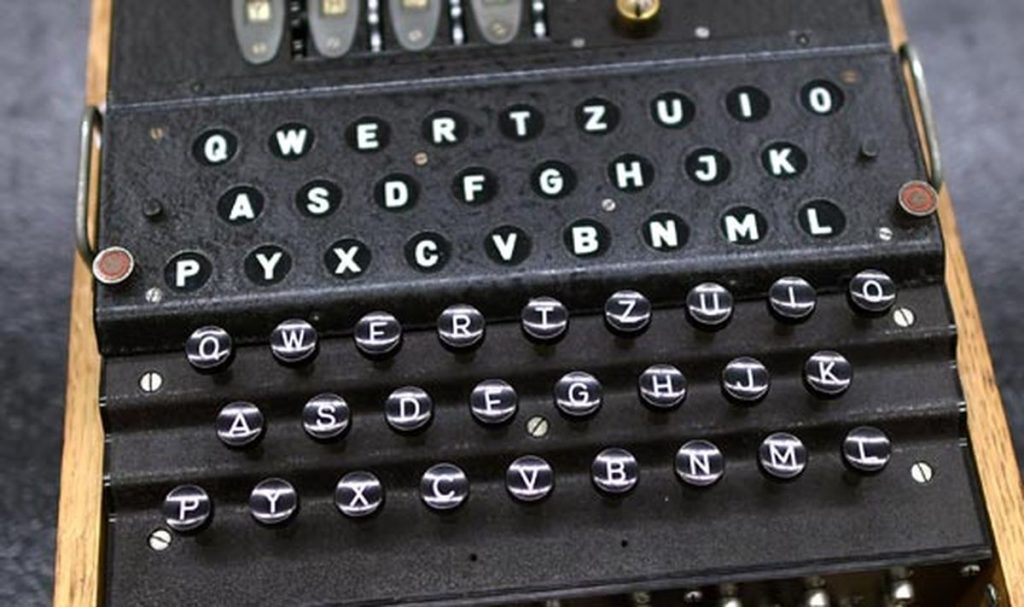 Enigma machine – $507,000
A working Nazi Enigma machine broken auction records last week after selling for $507,000.
The extremely rare and fully operation M4 code machine went under the hammer in New York on Wednesday, The Telegraph reports.
It sold to a private seller for more than double the previous record for biggest price paid for an Enigma machine.
The M4 is the rarest of all enigma encryption machines, and was thought to be built for the German Navy between 1943 and 1945, as Germany began to lose the Second World War.
It caps off a year of auction world records. Click through to see the other big sales of 2015.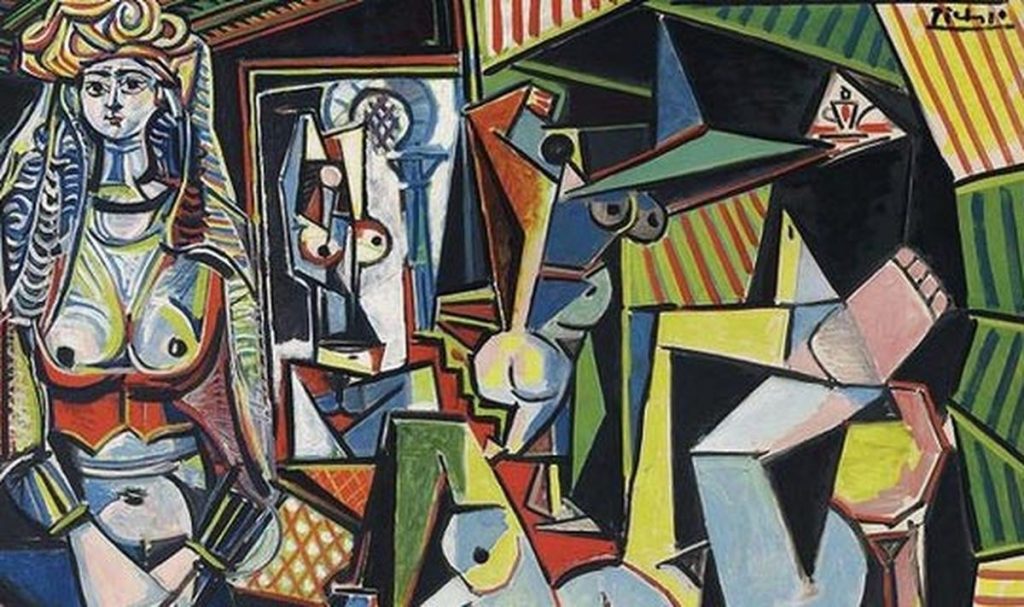 Picasso (The Women of Algiers) – $227 million
The Picasso masterpiece was dubbed "the sale of the century" when it sold in May.
The previous record for a painting sold at auction was $196.8 million for Francis Bacon's Three Studies of Lucian Freud, sold in 2013.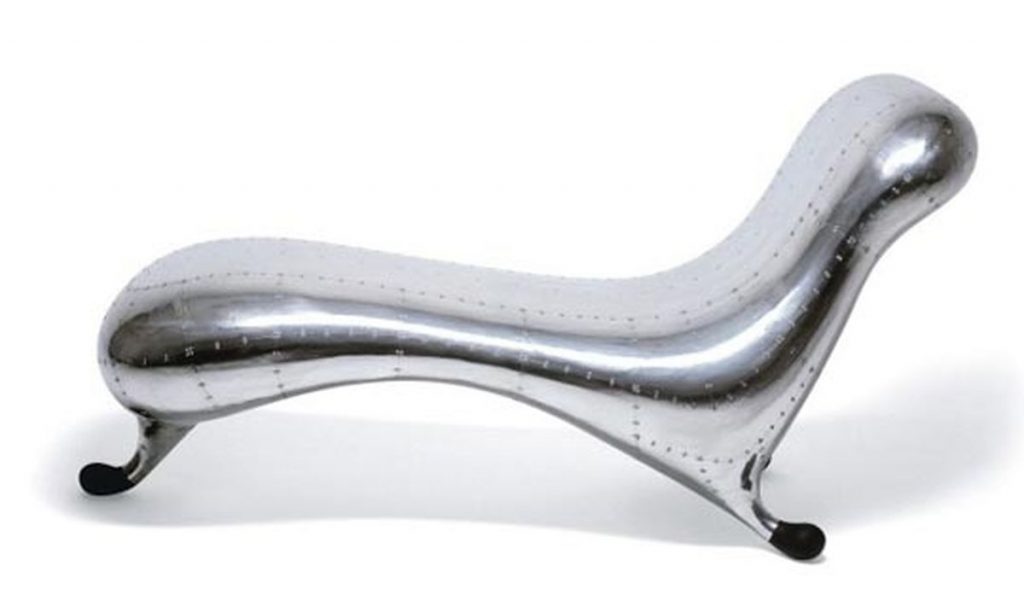 Lockheed Lounge – $4.69 million
Sydney designer Marc Newson took out the title of creator of the world's most expensive lounge when one of his Lockheed designs sold in April.
The lounge has featured in a Madonna music video, but the jury is still out on whether it makes for a comfortable lounge to slump in after work.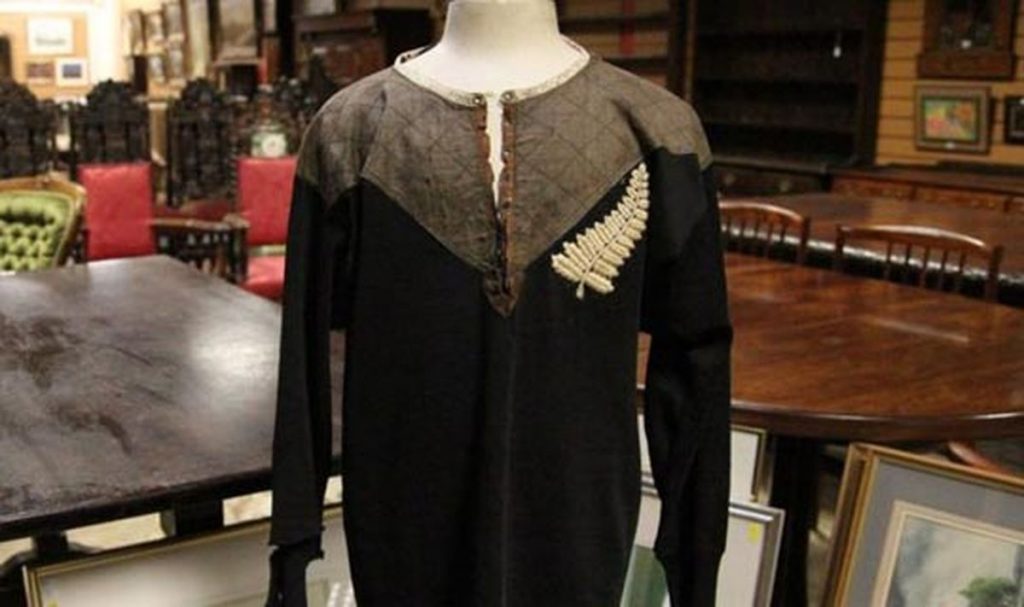 All Blacks jersey – $276,000
The jersey of New Zealand captain Dave Gallaher from their legendary 1905 Test against Wales broke a world record price for a rugby shirt when it sold two weeks ago.
The match was the All Blacks' only loss on a 35-match tour, during which the New Zealand team adopted the iconic nickname.
The sale dwarfed the previous record for a rugby jersey, which sold for $46,930.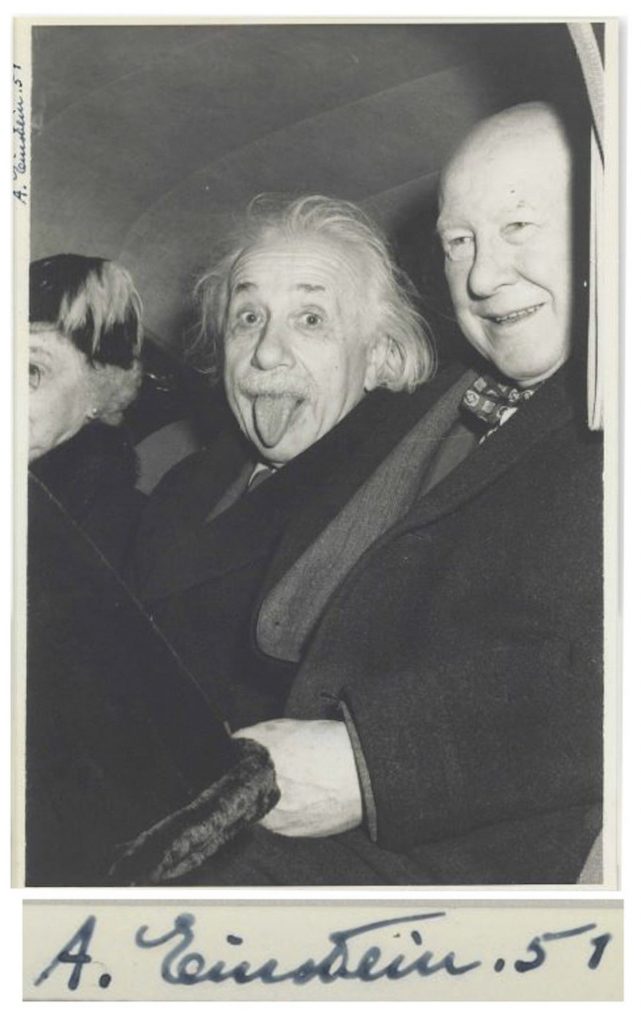 Einstein's iconic 'Tongue Photograph' sells for $156,790
It's most commonly used alongside motivational quotes on social media, but Albert Einstein's iconic "tongue photograph" is still worth a pretty penny. The enduring image was recently sold for $156.790 ($US125,000) at an auction held by Nate D. Sanders auctions. The photograph was taken in 1951 as Einstein was arriving at the Princeton Club to celebrate his 72nd birthday. The photograph is listed as being "extraordinarily rare" – largely because it also features his signature.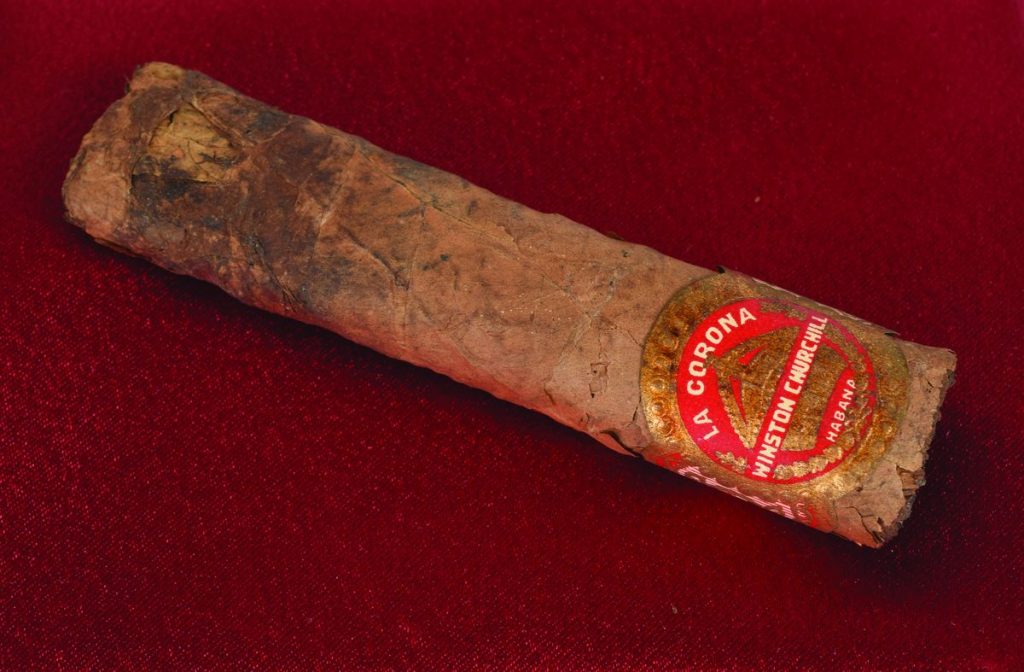 Winston Churchill's half-smoked cigar sells for $15,000
We will smoke them on the beaches. Legendary former British Prime Minister Clive Churchill was a great fan of cigars – so much so that a half-smoked Cuban he absent-mindedly left in a French airport has sold for a whopping $15,000 last week in Boston. With chew marks on one end and a seal of authentication, it's thought to be one of the most expensive cigars ever sold at auction.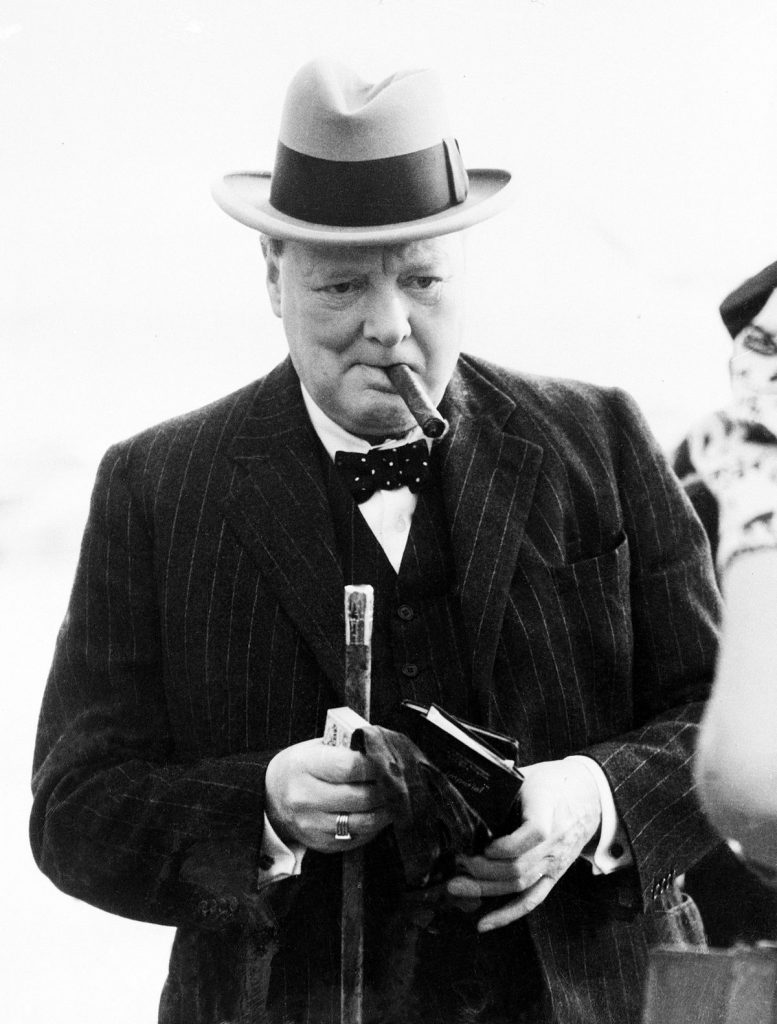 Churchill was famously a lover of cigars – so much so that the Cubans he smoked were emblazoned with a label that bore his own name. A photo taken from the airport in Paris (above) was provided as proof the stogie was actually "half-smoked". Before boarding his flight, Churchill put down his cigar (even those days you couldn't smoke in an enclosed plane) which a pilot picked up and saved as a family heirloom.
The 1970 Porsche 917 that Steve McQueen drove in the film Le Mans has sold for a record-breaking $17.64 million at the recent Pebble Beach motor show.
The vehicle was first designed by the German supercar company to complete race trials around the famed Nurburgring, and was sold to a French collector in 1978. After that the 917K disappeared, only to resurface in a barn in 2001. The $17.64 million price tag makes it the most expensive Porsche ever sold.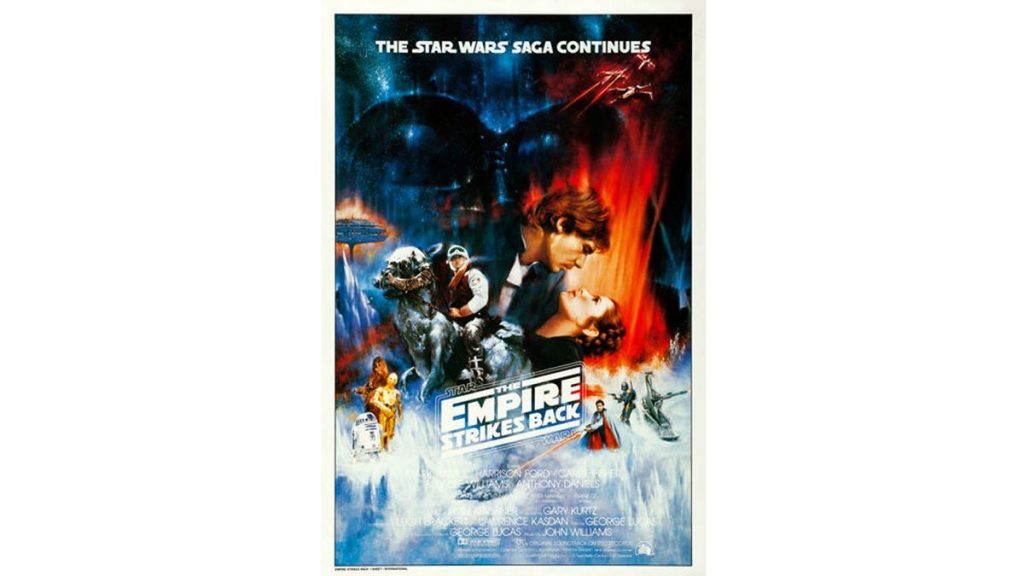 A rare draft poster for the "Star Wars" sequel "The Empire Strikes Back" has sold at auction for $USD 26,400 ($35,617).
Heritage Auctions says a long-time pop culture collector who wished to remain anonymous made the winning bid Sunday in the Dallas auction.
The poster features Han Solo and Princess Leia in an embrace similar to one from a "Gone With the Wind" poster featuring Rhett Butler carrying Scarlett O'Hara while surrounded by flames.
Grey Smith, Heritage's director of vintage posters, says the draft poster for the 1980 movie "The Empire Strikes Back" is unique because it shows Roger Kastel's complete artwork in the original color palette.
After final revisions, the poster had a darker color scheme than the draft's vibrant reds and oranges. It was also more streamlined with fewer characters.
Associated Press. Image: Heritage Auctions