After a year worth of quality content, with a show centred on Greeks in the field of science and a 2019 recap Ta Leme has come to a close for 2019. It is now, with the ability of hindsight, that we are able to look back and observe the changes that have taken place over time.
This year's NUGAS committee, led by Dean Kotsianis, has transformed Ta Leme in numerous ways which has produced a show of the highest quality. With an emphasis on inviting high-profile members of the Greek Community as guests, professionalism and consistency, 2019's Ta Leme has been the best year for the show yet.
It is on this note that the NUGAS committee would like to extend a special thanks to the show's host Dean, who has devoted numerous hours to the show to ensure that both its preparation and execution are done as smoothly as possible. His passion, drive and hunger for success is an inspiration to all and has without a doubt inspired other committee members to strive for their best. Additionally, a massive thanks must also be extended to fellow co-hosts George Nikolakopoulos and Eleni Nzifas who have always been keen to give a helping hand wherever possible.
Thank you for listening and stay tuned in 2020 for more amazing shows run by your favourite familiar voices at NUGAS.
3… 2… 1… TA LEME!
George Nikolakopoulos
Greek school visits- shaping the future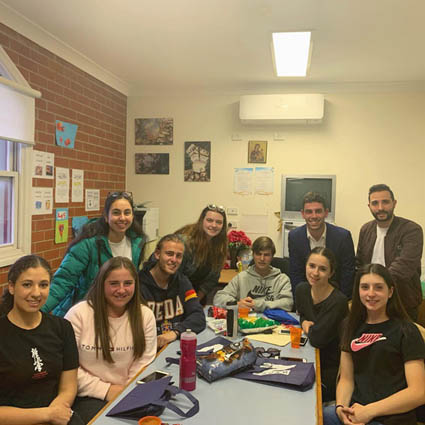 Recently, on behalf of NUGAS, the Monash Hellenic Student Society (MHSS) had the absolute pleasure and privilege to visit Omiros and St Raphael Greek Schools with the president of La Trobe University Greek society, who offered valuable information on how Greek language is taught at the University.
Despina Skourlis, Amy Tsagournos, George Nikolakopoulos and John Charalabidis spoke to incoming and outgoing VCE students about the trials and joys of high school, learning Greek and the university experience.
We were so pleased to have the opportunity to speak to the students and encourage them to continue their Greek studies. The majority of conversations centred on the importance of continuing the Greek language, which is vital in our everyday lives. A strong sense of community is borne of shared language, especially through the connectedness of the university clubs and it is this 'family' that we believe makes everyone feel so welcome. Additionally, we were able to discuss how much fun it is to maintain your culture and connection to the Greek language by joining your university Greek club. Conversation centred around the many events run by clubs, including MHSS, such as Tavern Nights, lectures and sweets days that encourage people to spread kefi. Finally, we took the time to impart anything and everything we could remember about our high school experience so that could offer even a little bit of insight to kids moving into VCE and their final year of high school. We, of course, know how stressful this time can be and were happy to use the visits as a chance to offer any advice we could. These are such important discussions so that the young Greek community continues to thrive and were thankful to have been part of them.
Despina Skourlis.