One of the members of Greece's rise to glory in the European Championship of 2004 in Portugal, Giorgos Karagounis, was in Melbourne for a few thanks to an initiative by the sports team of the 3XY radio station and a number of well known business people from the Greek community.
Among them are as Oakleigh Cannons president Stan Papayanneris, former South Melbourne president Greg Kayas, Chris Babatzias, Nick Gourlias and Nick Andrianopoulos.
Karagounis took part in several events, including Antipodes 2020, where he was honoured by Greek Community of Melbourne President Bill Papastergiadis for his 15-year service to Greek football.
Karagounis was the special guest in the presentation of the new Oakleigh Cannons jersey, while he kicked-off the NPL game between the south Oakleigh Club and South Melbourne , with a ten-manned Oakleigh Cannons FC extending its unbeaten start to the season, holding South Melbourne to a goalless draw. A first half sending off to Lucas Portelli for a last man challenge on Harry Sawyer reduced the Cannons to ten men and forced rearrangement at the back. Despite dominating possession and frustrating the Cannons, South failed to capitalise on having the extra man. The Cannons are again at home next Friday March 6 against Altona Magic in Round 4, whilst South are away to the Port Melbourne Sharks.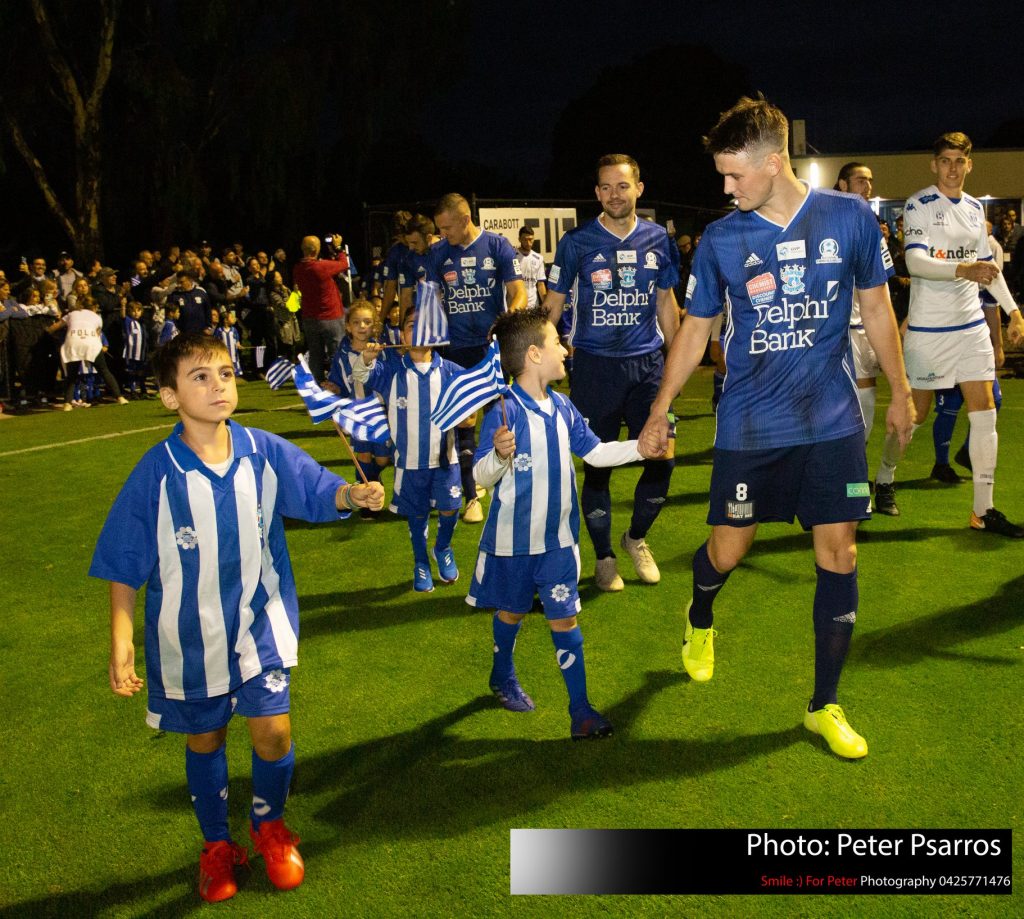 Round 3 NPL results :
Port Melbourne – Eastern Lions 3-0
Green Gully – Avondale 0-2
Oakleigh Cannons – South Melbourne 0-0
Heidelberg United – Altona Magic 3-1
Hume City – Dandenong City 2-1
Dandenong Thunder – Bentleigh Greens 1-0
St. Albans – Melbourne Knights 3-2
The Ladder
Hume City 9
St.Albans 7
Oakleigh Cannons 7
Dandenong Thunder 7
Avondale 6
Heidelberg United 6
Port Melbourne 5
South Melbourne 4
Bentleigh Greens 4
Melbourne Knights 2
Dandeonong City 1
Green Gully 0
Altona Magic 0
Eastern Lions 0
Next Round:
Friday 6/3
Melbourne Knights – Hume City, 7.30 pm.
Port Melbourne – South Melbourne 7.45 pm.
Green Gully – Heidelberg United, 8.00 pm.
Bentleigh Greens – St. Albans, 8.15 pm.
Dandenong City – Avondale, 8.30 pm.
Oakleigh Cannons –Altona Magic, 8.30 pm.
Saturday 7/3
Eastern Lions – Dandenong Thunder, 3.00 pm.