Granola bar entrepreneurs Ioannis Chatziargyriou, Eleni Albertou, Michalis Sideris and Giorgos Vradis. Photo Credit: School Synergy Snacks Facebook page
Focused on social inclusion and endorsed by beloved Greek chef IIias Mamalakis, four remarkable young Greek individuals who are on the autism spectrum have started a socially co-operative enterprise making and marketing granola bars.
After growing tired of the job market's unsuitability to their skills and abilities, they made the decision, which is a brave one for anyone, to go it on their own.
Ioannis Chatziargyriou, Eleni Albertou, Michalis Sideris and Giorgos Vradis all graduated from special education schools. It was during their participation in a virtual business student program that their teachers, and parents, started to notice the positive impact that the program was having on the students' lives
A community bank was then established for them, and with the help of the Stavros Niarhos Foundation, a professional-grade kitchen was built within their school. The overall aim was to link the students' education with professional skills, and ensure that they graduate with a strong vocational background.
Ioannis' mother tells reporters, "In Greece today, doing business is hard enough. But it's even more difficult for people with limitations and intellectual difficulties. The same goes for those who stand by them. The ones that are their minds and their voices.
"Although the legislature envisaged social cooperative business to facilitate the integration of people with disabilities and the safeguarding of their right to work, which is an essential element of human dignity, bureaucracy and responsibility are still well maintained, making our lives difficult sometimes," she admitted.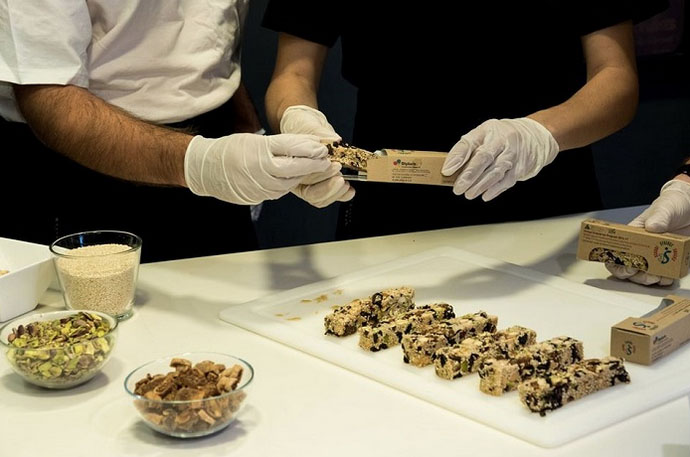 She describes their unique granola bar, saying "It's a tasty and healthy product made by a group of employees who make us proud every day. Taboos will always exist, but they are based on ignorance or lack of information. Fortunately, we live in times when society is more open and the idea of employing people with disabilities is not a utopian one.
"In this case, of course, synergies with other bodies are needed to enhance and promote the capabilities of people with disabilities. The kids even dream of Giannis Antetokounmpo trying their bars! Who else can better symbolize that what seems impossible, can become a reality with work and vision?"
IIias Mamalakis, the revered Greek chef, was moved and inspired by the story of the students so he decided to lend his abilities to the effort. It was he who created the first "S3″ granola bar using delicious all-Greek produce including olives, honey, sesame, almonds and peanuts. He is now a prominent member of the enterprise.
Chef Mamalakis says: "When students with intellectual disabilities see their efforts being recognized and awarded, they feel great joy. But this situation only lasts until they graduate. Creating opportunities for them is imperative."
The story of the S3 bars is only just beginning but production is already currently roughly 500 bars a month and they can be purchased in several stores in the cities of Athens and Volos and on Lesvos.
It is hoped that the granola bars will soon be featured in local Athens schools, business canteens, corporate events, and other locales.
Eleni Alberto, one of the four remarkable individuals driving this enterprise says "Although my life was difficult, I managed to achieve what my soul wanted: a baking/pastry degree that gave me some supplies and the privilege of continuing my career professionally.
"The difficulties we face with my team make us stronger and bring us closer to achieving our goals. We thank those who have supported us in the beginning."
Source: greekreporter