It's been a decade since New Zealand's second-largest city suffered a 'one-in-2,500 year' earthquake, causing widespread destruction and the deaths of 185 people.
It took just 25 seconds to change a city of 380,000 people forever.
On 22 February 2011, a magnitude 6.3 earthquake struck New Zealand's Port Hills, sending a devastating shockwave through the country's then second-most-populous city, Christchurch.
An earthquake the previous September had weakened buildings and infrastructure, so the 2011 tremor's location, shallow depth and strength caused massive damage.
Immediately, buildings crumbled and collapsed, causing some to catch fire. Among those that fell was the six-storey Canterbury Television building, which housed studios as well as an English language school and medical centre.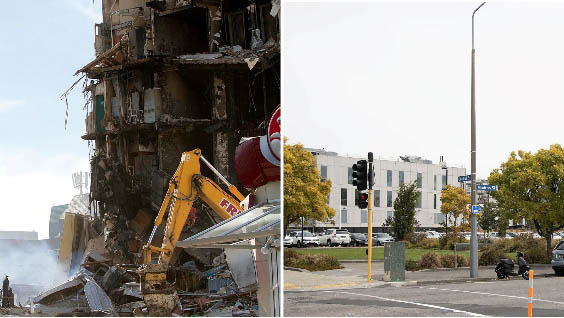 The majority of the disaster's 185 casualties – 115 people – were killed when it toppled and burst into flames. Hundreds of others were injured and one Australian lost their life.
"I could just see this great big ominous cloud of dust rising up from the city wherever I looked, and I knew that meant buildings had collapsed," Bob Parker, the mayor of Christchurch when the earthquake hit, said at the time.
"And I knew from the violence of the shake that there were probably going to be injuries."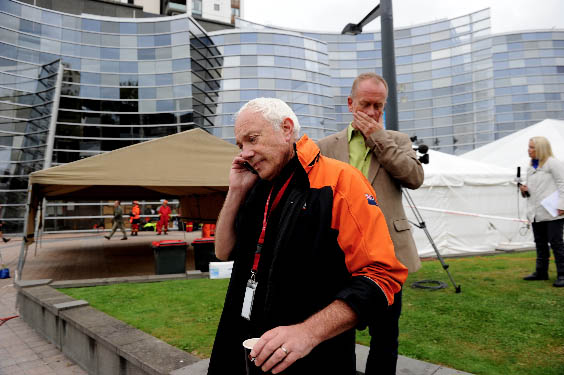 While New Zealanders are used to earthquakes, engineers estimate the level of damaged sustained in the Christchurch disaster was a 'one-in-2,500-year' event.
Builder Brent Scantlebury was in the centre of town when it hit. Shortly after the quake, he said he saw buildings "going down like dominoes".
"It took a long time for it to set in, what actually happened," he said. "I stood up and I looked down the street and I could just see buildings crumbling and falling out into streets and onto cars and people running to try and get away."
Then mayor of Christchurch Bob Parker outside the Art Centre in Christchurch, New Zealand, Saturday, February 26, 2011. AAP
"It took a long time for it to set in, what actually happened," he said. "I stood up and I looked down the street and I could just see buildings crumbling and falling out into streets and onto cars and people running to try and get away."
Among the many heritage buildings to be damaged or destroyed was the iconic Anglican cathedral in the city centre.
There was also significant liquefaction in the eastern suburbs – a smelly, dirty silt that wells up out of the ground and then dries like concrete. It's estimated liquefaction brought around 400,000 tonnes of silt into the city.
Immediately after the shock, Mr Parker said he didn't think there would be "such huge loss of life" but quickly realised it wouldn't be good news.
"It seemed inevitable there would be people in pain as a result of that 25 seconds," he said. "The thought of that overwhelmed me … that there were people I loved and knew and they were out there."
Australia's prime minister at the time, Julia Gillard, pledged support and rescue teams flew in almost immediately. Among them were fire crews from New South Wales deployed to the Pyne Guinness Gould building, which had collapsed.
Superintendent Tom Cooper, one of the leaders of the fire team, described discovering a female survivor who was trapped on the second floor of the collapsed building.
"It was a protracted rescue because she was in a bad position and the danger was that she could fall and that some of the steel that they used in the reinforcement of the concrete could have injured her in some way," he said.
It took almost four hours to free the woman, who had been trapped in the building for a total of 22 hours.
The destruction was unlike anything Superintendent Cooper had ever seen.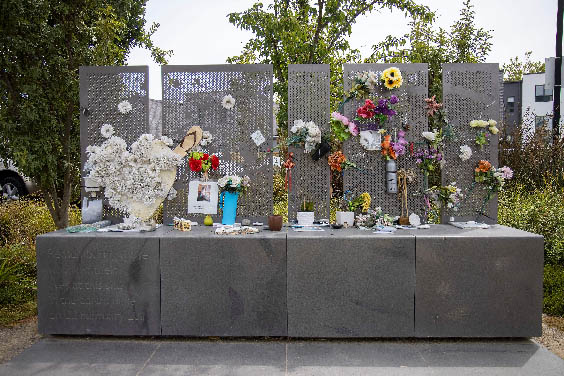 Mr Parker predicted soon after the quake hit the city would "never be the same again for any of us".
Following the tragedy, many residents left the city, dropping Christchurch's population behind Wellington, which then became the country's second-largest city.
Design and stabilisation work is still underway to reinstate the Anglican cathedral, with services temporarily held at the so-called "cardboard cathedral" nearby.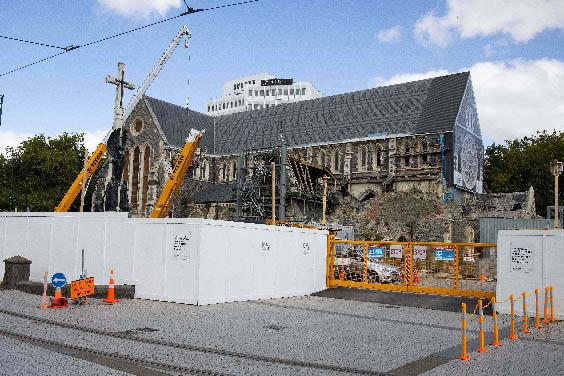 Other well-known buildings have gone, damaged beyond repair. The New Zealand government has said around 10,000 houses needed to be demolished, while 100,000 needed repair.
Two years after the blast, the New Zealand government estimated the total cost of the rebuild would be up to $40 billion NZD. Economists forecast the national economy could take up to 100 years to fully recover.
New Zealand Prime Minister Jacinda Ardern on Monday attended a service marking 10 years since the earthquake.
Hundreds of people gathered at a memorial wall in Christchurch, observing a minute's silence as flags flew at half-mast.
Ms Ardern said it was time to look ahead with hope for the future of New Zealand's second-largest city.
"It's been a hugely difficult decade for this city – at times I'm sure it's felt impossible," she said in a speech at the memorial.
"But as we look ahead to the coming decade, I see hope and energy and optimism, and I see Christchurch taking its rightful place amongst New Zealand's best and brightest cities."
Source: sbs.com.au