AXIOS SITE reports that Iran sent a message to Israel on Saturday stressing that it does not want further escalation in the Hamas-Israel war, but that it will have to intervene if the Israeli operation in Gaza continues, two diplomatic sources with knowledge of the situation told Axios.
Why it matters: The fighting between Hamas and Israel will turn into a regional war if Iran gets involved either directly or indirectly, such as through a militant group in Syria or by backing any Hezbollah decision to fully join the fighting.
Iran's message, sent to Israel through the UN, comes as the Biden administration has been trying to deter Iran and Lebanon-backed Hezbollah, supported by Iran, from joining the war. This week, the U.S. sent an aircraft carrier group and fighter jets to the region.
Behind the scenes: Iranian Foreign Minister Hossein Amir-Abdollahian met with UN envoy to the Middle East Tor Wennesland on Saturday in Beirut, the two diplomatic sources said.
Wennesland urged Amir-Abdollahian to help prevent a spillover of the conflict in Gaza and Israel to the wider region in the Middle East.
The Iranian foreign minister replied that Iran doesn't want the conflict to turn into a regional war and wants to try to help with the release of civilians who are being held hostage by Hamas in Gaza.
But Amir-Abdollahian stressed that Iran has its red lines. He said that if the Israeli military operation continues — and especially if Israel follows through on its promise of a ground offensive in Gaza — Iran will have to respond, according to the sources.
Wennesland called Israeli national security adviser Tzachi Hanegbi and other officials and conveyed Iran's message, the sources said.
Wennesland's office confirmed he met with Amir-Abdollahian on Saturday, saying they discussed "diplomatic efforts to release hostages, de-escalate and prevent a spillover of the conflict to the wider region."
The Israeli Prime Minister's Office declined to comment. Iran's Ministry of Foreign Affairs did not immediately respond to a request for comment.
What they're saying: Amir-Abdollahian, who earlier met with Hezbollah leader Hassan Nasrallah, said in a briefing with reporters in Beirut on Saturday that Israel must "stop the crimes against civilians in Gaza — because it might be too late in a few hours."
"I know about the scenarios that Hezbollah has put in place," Amir-Abdollahian said. "Any step the resistance will take will cause a huge earthquake" for Israel.
The big picture: The latest fighting between Hamas and Israel began Oct. 7.
Israel has continued its heavy bombardment of the Gaza Strip after Hamas' attack on Israel last Saturday. Violence also has been escalating along the Israel-Lebanon border and in the occupied West Bank.
More than 1,300 Israelis and 2,200 Palestinians have been killed.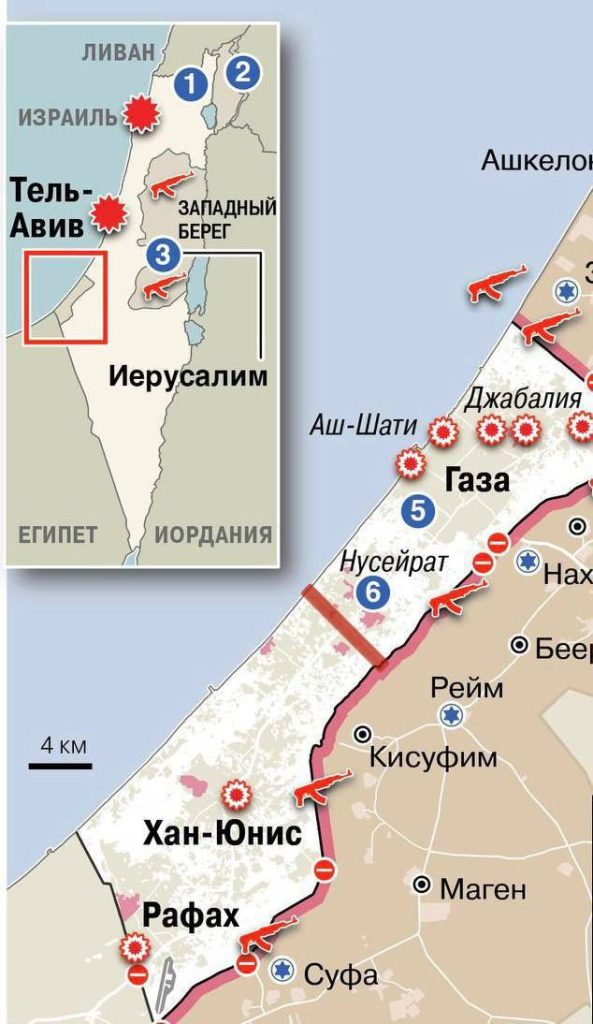 This message from Iran comes after orders Palestinians to evacuate Half of Gaza cutting the borders of the Gaza enclave to the designated borders and reducing it by almost half, which poses serious problems for Hamas and becomes a huge humanitarian tragedy.
400k have already evacuated. Is Israel is planning to take more of Gaza and confine 2.3 million Gazans to a smaller space?
Source: AXIOS