Source: 9news
Hundreds of riled up construction workers have gathered outside the CFMEU Melbourne office to protest COVID-19 restrictions.
Videos on social media show the workers, many of which are unmasked, gathered around the entrance to the office on Elizabeth Street in Melbourne's CBD, chanting and yelling.
CFMEU secretary John Setka used a loudspeaker to ask the group to "calm down," but was drowned out by calls.
Items can be seen being thrown at the doors to the office and workers can be seen angrily pushing and shoving.Police are on scene.
The protest is believed to be against COVID-19 vaccines being made mandatory among constructions workers from Friday.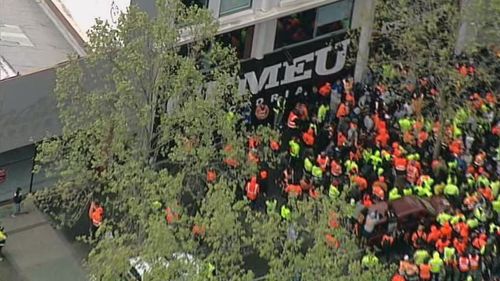 Construction workers state-wide must show proof to their employer that they have had at least one vaccine dose by 11.59pm on September 23 in order to be allowed to work.
A message sent to a group titled 'Vic Freedom Movement Event' on a social messaging app calls for to get to the office to "support freedom of choice".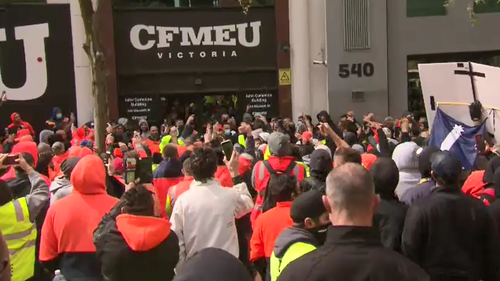 "Send a message that your unions will lose your support if they comply with these measures that defy personal choices for medical decisions," the message reads.
The protest comes after more than 100 workers across several Melbourne suburbs and CBD streets stopped traffic on Friday to protest being banned from their tea rooms.
When asked about his response to tradies protesting this morning, Premier Daniel Andrews said protests were futile when it came to COVID-19."Protest doesn't work against this virus," he said.
"There'd been a whole bunch of people sitting at home scratching their heads about why anyone would be protesting about being open".